This is an archived article and the information in the article may be outdated. Please look at the time stamp on the story to see when it was last updated.
By Holly Yan, Gary Tuchman and Michael Martinez, CNN
The good news: Temperatures and winds across scorched parts of southern California are starting to subside.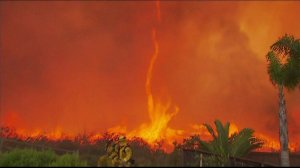 The bad news: Unruly wildfires keep barreling across the region, destroying homes and spawning "firenadoes" — funnels of flames that look like tornadoes.
With 10,000 acres of land already devoured, thousands of homes are still in jeopardy as at least six fires rage in the San Diego area.
"It's scariest at the moment, with the fire now like 100 yards from the homes," San Marcos resident Kevin Giesey said. "I worry about the embers jumping into the grass next to the homes. It's frightening."
In just a few hours, fires in San Marcos went from minor blazes to raging infernos, filling the sky with bright orange flames and solid black smoke.
Unusually fierce winds mixed with the flames to spawn firenadoes. And grass parched by California's severe drought meant any stray spark could start another blaze.
CNN's Gary Tuchman saw a wildfire in San Marcos leap hundreds of yards in just seconds.
"It's a moving target, as far as estimating size," San Marcos Fire Chief Brett Van Wey said late Thursday. "It's only about 5% contained, though."
At least 5,000 homes have been evacuated in San Marcos.
Now, nearby cities such as Escondido are also at risk.
More than 15,000 Escondido residents have been told to evacuate. The evacuation zone included a 12-story hospital, Palomar Medical Center West, but that facility wasn't evacuated.
"It's just logistically hard to transport that many patients in a short period of time," Escondido Community Relations Manager Joyce Masterson said. "The hospital is along the foothills and about three miles away from the fire."
That hospital announced on Twitter that its emergency room had closed to new patients because of the flames.
The fire department was "in place to do everything possible to protect the hospital," Masterson added.
The city of Carlsbad's website reported was what apparently the first fire-related death Thursday.
"During a hot spot check, firefighters were alerted to a transient encampment in the area of Ambrosia and Calliandra," the city's statement said. "On checking the area, firefighters located a badly burned body. Further details about the deceased are unknown at this time and the investigation is ongoing."
Two of the Southern California wildfires have spread to Marine Corps Base Camp Pendleton. Much of the land on the base is open acreage used for training exercises.
Teens investigated for arson
While the causes of the wildfires remain unclear, arson has been a primary suspicion among residents.
On Thursday night, Escondido police said they arrested two teenagers, ages 17 and 19, in connection with brush fires along Escondido Boulevard and Kit Carson Park.
Witnesses said two people "appeared to be involved in setting small fires," Escondido Police Lt. Neal Griffin said.
Griffin said police do not have any indication that the teens are involved in the wildfires, but "obviously we will be exploring that possibility."
Remnants of homes
Although many residents have evacuated from their houses, some who have returned came home to just rubble.
"We walked up to this place, and it was like a bomb went off," Anya Bannasch told CNN's "Anderson Cooper 360" Thursday. "I can't even explain to you how just horrific it was."
Bannasch lost her house, but the entire family — including the dog — survived.
"I pray for all the other families, too, out there that are going through this right now, because I know there's fires everywhere."
Evolution of a disaster
The wave of wildfires started Tuesday with the Bernardo Fire in San Diego County. The next day, a spate of new blazes popped up — each one separate from one another, each posing its own dangers.
Scorching temperatures, including record daily highs of 97 degrees in San Diego and 104 in both Escondido and El Cajon, certainly didn't help.
Nor did bone dry conditions: 100% of California is experiencing exceptional, extreme or severe drought conditions. The wildfire area is in the second most-dangerous category.
"The last three years have (been) the driest in California's recorded history," Gov. Jerry Brown said, citing climate change as "a factor" in the spate of blazes.
Fire season in Southern California typically starts late in the summer and extends into fall. But nowadays, "we have year-round fire risk," San Diego County Supervisor Dianne Jacob said.
There's been no time to shut down over the past 12 months, said Chief Thom Porter of the California Department of Forestry and Fire Protection (also known as Cal Fire).
"We have never gone out of what you would call fire season," Porter said.
Cal Fire Director Ken Pimlott said that the amount of fire activity statewide so far this year has been "unprecedented."
Here's where some of the major California fires stood as of Friday morning, according to Cal Fire:
The Cocos Fire in San Marcos
-1,200 acres burned
-10% of the fire has been contained
-The fire is still very active
The Tomahawk Fire at Marine Corps Base Camp Pendleton
-6,300 acres burned
-15% of the fire has been contained
-A Camp Pendleton firefighter was being treated Thursday for heat exhaustion
Las Pulgas Fire at Marine Corps Base Camp Pendleton
-600 acres burned
-0% of the fire has been contained
-Camp Las Pulgas and Camp Margarita were ordered to evacuate
The Bernardo Fire in San Diego
-1,548 acres burned
-75% of the fire has been contained
-Authorities believe the blaze will be fully contained on Friday
The Poinsettia Fire in Carlsbad
-400 acres burned
-85% of the fire has been contained
CNN's Artemis Moshtaghian, Dan Simon, Greg Botelho, Dave Alsup, Greg Morrison and Amanda Watts contributed to this report.
TM & © 2014 Cable News Network, Inc., a Time Warner Company. All rights reserved.