This is an archived article and the information in the article may be outdated. Please look at the time stamp on the story to see when it was last updated.
"Ease his pain."
"Go the Distance."
"If you build it, he will come."
That's what Kevin Costner's character, in the 1989 movie 'Field of Dreams,' hears that convinces him to build a baseball field on his farm in Dyersville, Iowa.
Now, 25 years later, fathers, sons, and baseball fans are still returning to that farm to look back on what the movie means to them.
Costner, himself, returned this Father's Day weekend to "have a catch" with the film's youngest fans.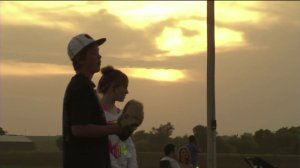 "There are just some films that just stick with people and, if you get it, not everybody does but if this connects with you, it just stays with you," said baseball broadcaster Bob Costas.
Fans stayed into the evening as the film was played on a screen in the middle of the field.