This is an archived article and the information in the article may be outdated. Please look at the time stamp on the story to see when it was last updated.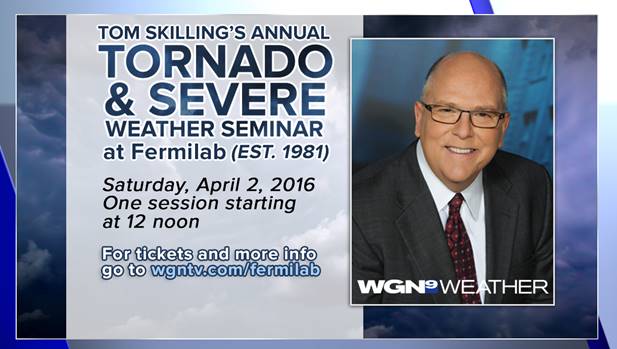 CHICAGO — WGN-TV chief meteorologist Tom Skilling will host the 36th Annual Tornado and Severe Weather Seminar at the Ramsey Auditorium on the grounds of the Fermi National Accelerator Laboratory in Batavia, on Saturday, April 2, 2016 starting at noon. New this year, the event will be ticketed; however, admission will continue to be FREE.
Additionally, the event has been shortened to be ONE session from 12pm to approximately 4:30pm. In order to reserve tickets, interested parties can reserve a pair of two tickets at www.fnal.gov/culture. At a later date, WGN-TV will also give away 10 pairs of tickets, to give viewers an extra chance to attend. The video stream will be available on-demand for viewing later for those who cannot watch it live at WGNtv.com/fermilab. Those on Twitter can follow hashtag #SkillingFermi for information, and nuggets from the seminar itself. WGN-TV will stream the entire 12 noon CT seminar on WGNtv.com.
Tom Skilling's Annual Tornado and Severe Weather Seminar was created to educate viewers about the dynamics and after-effects of severe weather, and is open to everyone including students from junior high age and older. Skilling created this seminar 36 years ago, along with Brian Smith, currently with the National Weather Service Forecast Office in Omaha, Nebraska. For more information about this seminar, go to WGNtv.com/fermilab. More info about the U.S. Department of Energy's Fermilab: http://www.fnal.gov/pub/visiting/hours/
The 2016 program features an impressive and varied roster of severe weather scientists and forecasters. Here is the list of speakers and their talks for the Saturday, April 2nd, 2016 Fermilab Tornado and Severe Weather program which begins at 12 noon:
Tom Skilling, WGN-TV & Radio and Chicago Tribune Chief Meteorologist
Tom Skilling will present the best program he has seen on the infamous August 28, 1990 tornado. It's titled, "8 Minutes in August–The EF-5 Plainfield Tornado."  Documentarian Greg Peerbolte, in conjunction with colleagues and folks at the Joliet Historical Museum put together a spell-binding look back at meteorological events that day, which produced the Chicago area's only F-5 tornado. The deadly twister–which killed 29 and injured hundreds more—struck without warning and was rain-wrapped in rain and therefore all but invisible to those who watched as it roared into unsuspecting Plainfield and Crest Hill in Chicago's southwest suburbs. It occurred at a time of the year when t-storms in this area tend to produce flooding rains and hail–not mammoth EF-5 tornadoes. The accounts of those who survived and covered the mammoth storm are gripping. The tornado was described to Skilling in a phone conversation less than 24 hours after it struck as "the worst August tornado to hit the United States; possibly the most damaging tornado I've investigated in all my years" by world-renowned tornado researcher Dr. Ted Fujita of the University of Chicago. It shook the meteorological community here to the core and has led to a revolution in the way severe storms are handled.  No tornado in the Chicago area has struck since without warning and an overhaul of the area's critically important spotter network and the installation of the most powerful Doppler radar system makes it far less likely a tornado of that strength will ever again roar into a Chicago area community undetected.  Joining Tom for the introduction of "8 Minutes in August" will be documentarian Greg Peerbolte.
Dr. Louis Uccellini, Director, National Weather Service
The National Weather Service, under the direction of Dr. Uccellini and his team, have accomplished the biggest upgrade in the agency's supercomputing and modeling infrastructure ever. The tenfold increase in computing power is allowing a full court press by U.S. numerical modelers to tackle the prediction of ever-smaller features of the atmosphere, aiding human forecasters in generating more accurate forecasts of events ranging from hurricanes and tornadoes to floods and extremes of temperature.
Dr. Russell Schneider, Director of the National Weather Service's Storm Prediction Center, Norman, Oklahoma
Monitoring U.S. weather 24/7, issuing our country's tornado and severe thunderstorm watches as well as guidance on the nation's fire risk. Dr. Schneider's staff has developed an impressive track record in pinpointing regions threatened by outbreaks of tornadoes and severe weather as much as a week ahead of time. The Storm Prediction Center also offers a range of indispensable numerical model products, which enable meteorologists in every facet of the atmospheric science community to follow developing weather situations and communicate the threat posed by severe weather to the public with a level of confidence unrivaled in the past.
Chris Strager, Central Region Director, National Weather Service
Along with his colleagues across the National Weather Service's Central Region, which includes Chicago and the Midwest, Chris Strager has spared no effort in the goal of producing a Weather Ready Nation—a nation prepared for the dangerous extremes of weather, which have earned this country's weather a reputation of being home to some of the most varied and volatile on earth.
Dr. Donald J. Wuebbles is the Harry E. Preble Professor of Atmospheric Science at the University of Illinois
An expert in atmospheric physics and chemistry, Dr. Wuebbles has authored many pioneering studies related to human effects on the Earth's climate, on air quality, and on stratospheric ozone. He was a leader in the 2014 U.S. National Climate Assessment and was also a coordinating lead author for the 2013 international assessment of climate change. He is currently on assignment as an Assistant Director with the Office of Science and Technology Policy at the Executive Office of the President in Washington DC. He is going to discuss policies designed to restrain the production of greenhouse gases in the wake of the recent Paris Climate Conference.
Doug Sisterson & Dr. Seth Darling of Argonne National Laboratory, authors of the book "How to Change Minds on our Changing Climate"
Both will join Dr. Donald Wuebbles to talk about climate change and to discuss what motivated them to write this fascinating book which has been released to rave reviews for the very readable manner in which it was written and the service it performs in demolishing a mountain of misleading information that has been circulated regarding our changing climate and humans' role in this. The book lays out things we can do to mitigate some of the more devastating effects of climate change if we act in an expeditious manner. Argonne Laboratory is engaged in research aimed at developing the clean energy sources of the future.
Ed Fenelon, Meteorologist in Charge-National Weather Service-Chicago
Ed offers a fresh look at what this area's biggest outbreaks of severe weather tells us about the changing landscape of severe weather. He will also look at how last April's devastating and deadly Fairdale tornado fits into this updated picture.
Mike Bardou, Warning Coordination Meteorologist, NWS-Chicago
A hard-working member of the National Weather Service's Chicago Forecast Office staff who spent days surveying and cataloging the damage inflicted by a swarm of twisters in the Fairdale and Rochelle areas. Significant tornadoes such as these and the one that struck Coal City and surrounding areas in 2015 are a reminder that the area is not immune to these devastating storms. We all need to have a plan of action when storms approach, especially those that prompt severe thunderstorm and tornado warnings. Mike will outline a process that everyone can follow to develop their own severe weather response plan and ensure that they are weather aware.
Brian Smith, Warning Coordination Meteorologist-National Weather Service Forecast Office-Valley, NE, Conducting Storm Surveys and How They Relate to Improving Safety in Your Home
National Weather Service personnel routinely conduct storm surveys after tornadoes and wind storm events that move through areas of the nation. Information gathered from conducting storm surveys not only provides one with valuable information about the storm structure, but also about the failure and quality of construction of structures. This information can lead to ways of mitigating the effects of damaging winds either by strengthening the existing structure or by constructing a safe room.
Sean Lewis, WGN-TV anchor/reporter
Among the group of WGN reporters who was on the ground in the hours, days and weeks that followed the deadly Fairdale tornado last April. Sean had covered the devastating Washington, IL, twister east of Peoria only a year and a half earlier. Sean will team up at this year's Fermilab program on Saturday, April 2nd, with first responder and veteran helicopter reporter Kris Habermehl, who was the member of a team of brave first-responders who were on the ground in the horrific and chaotic moments after the twister hit. Sean and Kris will talk of the horrors first-responders and reporters on the scene of such a tragedy encounter upon arriving in a community which has been all but leveled by a tornado.
Commonwealth Edison's Kimberly A. Smith, Director Emergency Preparedness 
What does it take to restore power to customers when severe weather hits? Get a behind-the-scenes look at ComEd's Emergency Preparedness program and see what is required to prepare and respond when storms come through the area.
ComEd follows Tom Skilling's weather forecasts closely, along with internal company and external meteorologist reports, to anticipate and prepare for storm conditions. When forecasts predict severe weather, the company enhances staffing of their field forces, activates their Emergency Response Organization (ERO), strategically stages materials, acquires additional crews from other sources and opens their Emergency Operations Center (EOC), regional storm centers and other support groups. Wind, ice, lightning, tornadoes, and other weather can bring down electric poles and wires directly, or via downed trees; getting the lights back on safely and quickly for customers is of highest priority. The presentation will cover some specific recent examples that illustrate ComEd's preparation, the damage that severe weather can have on the electric grid, and the restoration efforts that follow.
WGN-TV is Chicago's CW network affiliate, programming news, sports and entertainment. WGN News programs more local news than any other Chicago TV station, and can be seen on WGN-TV, CLTV, WGNTV.com and the WGN-TV News and Live apps. WGN 9.2 is Chicago's home of Tribune Broadcasting's classic TV network Antenna TV and WGN 9.3 is Chicago's This TV movie network affiliate. WGN-TV is a Tribune Broadcasting station. For more information on Chicago's Very Own WGN-TV, go to WGNTV.com