This is an archived article and the information in the article may be outdated. Please look at the time stamp on the story to see when it was last updated.
For every time you felt like throwing in the towel, there's a story out there of someone who got back in and did something amazing.
Austin Nacey, from Braidwood, was a great gymnast in high school, but once he graduated he was burnt out and done with tumbling. That was 6 years ago.
Nacey just brought home the silver medal in the World Games at the age of 23.
In high school Nacey pounded through his tumbling drills so hard he cracked the PVC piping in the walls.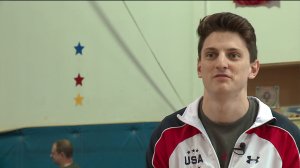 "I always knew he had no limits. You didn't have to remind Austin to have pointed feet or tight legs, he just did," said Gail White, Owner and Coach at Twist Stars in Tinley Park.
But that drive for perfection and fire died out at 18. He was tired. Burnt out. That's until his old coach stepped in. White coached Nacey through his first set of twists and tucks at the age of 10 and knew he had something special, even if Nacey didn't see it himself.
She asked him to come back to the gym to help with the younger gymnasts.
"I said, I could really use your help and would you like to coach?" White asked.
Through working with other enthusiastic young tumblers Nacey started to hit the mats himself once again. He came back stronger than ever.
He'd coach all day and then push his own body through excruciating drills, finding new height and power with each passing year.
He began cleaning up at nationals even though he was far older than his competitors. The fire had been rekindled. Nacey was not only performing better than ever, but he qualified for the World Games in Poland in the summer of 2017. A dream come true, until the nagging feelings of self-doubt came creeping back in.
Just months before the world games, Nacey took his mom to breakfast.
"He said, I think I'm done.  I saw him defeating himself. He was second guessing himself. He didn't believe what I knew he had in him," said his mom, Brenda Wheeler.
His mom pushed him to compete and get out of his own way.
Weeks later, July 24th, Nacey was in Poland and competed not on a team, but as an individual entry. And with his routine, proved to the world – and himself – just how good he was.
"I saw the look on his face…it just made me cry..because I kept telling him I knew he could do it but he didn't believe in himself. I think now he does," said Wheeler.
"It was great. Doing this 15 years and all that hard work paid off," said Nacey.  "They pushed me to keep going and I'm glad I did cause obviously it worked out."
Nacey is back at the gym working harder than ever, this time prepping for the World Championship in Bulgaria this November. The really cool thing about his story is that he not only learned to have faith in himself, but he inspired tons of young tumblers at that gym to not give in to their own self-doubt.