This is an archived article and the information in the article may be outdated. Please look at the time stamp on the story to see when it was last updated.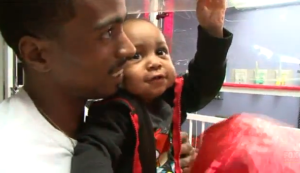 A Milwaukee dad says he was going down the wrong path in life, but having a son turned his life around.  Shortly after his son's birth, he was able to return the favor.
When Eulos Rounds found out that his son only had days to live without a liver transplant, he didn't waste any time and volunteered to donate.
"I didn't care too much about the risks, 'cause he was at risk anyway.  I felt like, if he go, I go," Rounds told WITI.
Thirty percent of Eulos' liver was transplanted into his son, Eulos Jr. It took Eulos Sr. 100 days for his liver to grow back to its normal size.
Both father and son are recovering and doing well.
For much more on this story, check out WITI's coverage here.