This is an archived article and the information in the article may be outdated. Please look at the time stamp on the story to see when it was last updated.
DYER, Ind. —  The driver of a stolen car was killed in a police-involved shooting in Dyer, Indiana after a chase that also left a pedestrian in Sauk Village hospitalized in critical condition.
Authorities have identified the suspect who was shot and killed by officers, as 33-years-old Mark P. Coffey of Chicago Heights. Coffey was reportedly well known to police; he had an active warrant out for his arrest.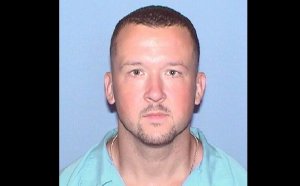 Despite how this chase ended — a suspected car thief dead, a pedestrian hit and another car smashed — officers still believe pursuing the Coffey was the right call.
"We have certain parameters we look at when a pursuit should continue or be canceled, I will say the parameters were not met to reach the level of canceling," said Chief James Paoletti, of Crete PD.
The chase began around 5 a.m. in south suburban Crete, Illinois. Police say Coffey ditched a stolen car, then, with keys to another stolen vehicle, took off in the direction of Sauk Village where he hit a pedestrian near a gas station. That pedestrian is in critical condition tonight.
"Cleary this was a dangerous person based on experience and past training this person needed to be apprehended," said Glen Fifeld, of Illinois State Police.
From Sauk Village, Coffey, who was wanted on an armed robbery and burglary charges, drove to Dyer where he hit a car near a BP gas station.
Police shoot & kill offender that lead them on chase starting in Crete & ending here in Dyer, IN. Pedestrian hit along way in critical cond pic.twitter.com/zblLkExns3

— Sarah Jindra (@SarahJindra) August 10, 2017
"I saw the suspect's vehicle fly through the parking lot and he hit me and then the car stopped where it is now," said Ben Dylstra, whose car was hit by the suspect.
Police moved in and multiple shots were fired. Police wouldn't say if Coffey had a weapon or if they found a weapon or why police opened fire to begin with. Instead saying only that there was a confrontation.
Coffey was also wearing an ankle bracelet monitor. Police were still trying to track down why.