This is an archived article and the information in the article may be outdated. Please look at the time stamp on the story to see when it was last updated.
A veteran police officer from Pontiac and his service dog were killed in a crash on I-55 Wednesday night.
29-year-old Casey Kohlmeier had been with the department for six years.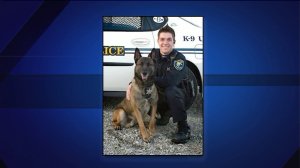 He and his K-9 partner, Draco, worked together for five years.
Kohlmeier was on-duty Wednesday night and parked in the median of I-55 near Pontiac.
Police say another driver struck his vehicle killing the officer and his service dog.
The driver of the second car is hospitalized today.
Flags at the police department in Pontiac have been lowered to half-staff.