This is an archived article and the information in the article may be outdated. Please look at the time stamp on the story to see when it was last updated.
CHICAGO — Jamie Poulos was out with friends to celebrate her 23rd birthday early Sunday when the Uber they were riding in was struck from behind on the Stevenson Expressway, and burst into flames.
The Uber driver and two of the passengers were able to escape the burning vehicle. Poulous did not survive in the crash.
"They went out to celebrate her birthday, they did the responsible thing, and it didn't matter," Jamie's mother Andrea Poulous said Sunday.
According to the Illinois State Police, the Uber was heading south on I-55 around 3:20 a.m. Sunday when a speeding car plowed into it from behind near the Damen Avenue exit. The car caught on fire as it crashed into the side of the expressway.
Jamie Poulos was in the back seat and was unable to be removed, according to police, and was pronounced dead at the scene. A 22-year-old and 23-year-old passenger were taken to the hospital and are in stable condition, while the 47-year-old Uber driver was treated at the scene.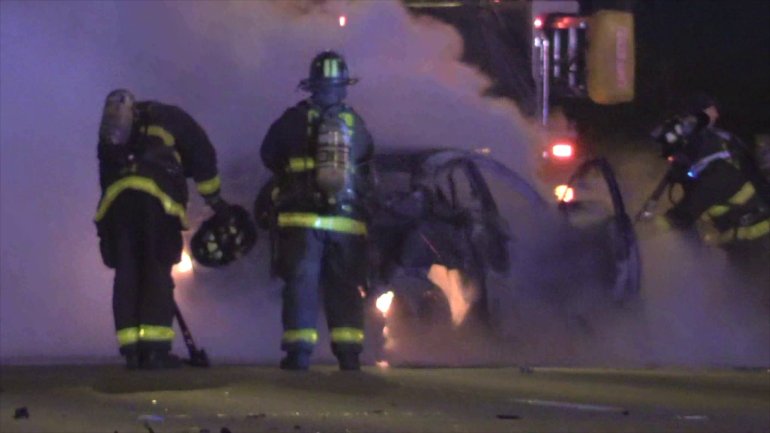 The driver of the other vehicle attempted to get away, but he was arrested by state police. A 24-year-old female passenger in his car was taken to a hospital in serious condition.
Andrea Poulos said she shared birthday cake with her daughter in their Berwyn home just a few days ago. Jamie had planned to sleep over at a friend's house after a fun Saturday night out. Then Sunday morning, there was a knock that no parent ever wants to hear, and an Illinois State Police trooper outside her front door.
"As I soon as I saw them, I knew it wasn't good, and he told me, it was an accident," Poulos said.
A Morton West High School grad, Jamie Ann Poulos's mom describes her as  beautiful and humble. She worked at a Starbucks in La Grange, a playful employee who loved her job. She was studying at Morton College with dreams of being a meteorologist or an astronomer.
"She was a sweetheart, and I don't know how I'll ever handle being without her," Andrea Poulos said. "My whole world fell apart."
It took investigators nearly eight hours to clear the scene and gather evidence, as they kept the southbound Stevenson shut down until 11 a.m. Sunday.