This is an archived article and the information in the article may be outdated. Please look at the time stamp on the story to see when it was last updated.
CHICAGO — The family of an elderly woman who was found beaten to death in her home said they believe she knew her attacker.
Family members said Australia Landingham, 82, would give you the shirt off her back but she never let a stranger into her home.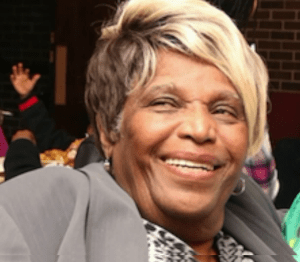 Crystal Landingham, her daughter, came back from running errands with her father Sunday afternoon to find her mother dead at the bottom of the basement stairs around 5 p.m. in the 2300 block of South Halsted in the Chicago Heights neighborhood. Officials have ruled her death a homicide.
"I found her. I wish I hadn't found her. I'm messed up in the head. I'm traumatized. I can`t sleep," she said.
The Cook County Medical Examiner said Landingham, known as "Aunt Boochie," was beaten to death. She died of multiple blunt force injuries.
"She was 82 years old. Why would you do something like this, crush her skull and knock her teeth out of her mouth? How could you do this to somebody?" Marshon Terry, Landingham's niece said.
When Crystal Landingham and her father, Walter Landingham, left to go shopping, the front door and windows were open.  When they came back everything was closed up and the garbage was gone.
"It is someone she knew. It's got to be. They don't let people in their house," Dennis Guyder, Landingham's nephew, said.
Her sister, Beatrice Moore, lives down the block. She's lost three other siblings in the past few months.
"She was there by herself and I can just feel her, the trauma that she was going through dead and fear and stuff, you know there by herself," she said.
Landingham and her husband were supposed to celebrate their 50th wedding anniversary on Friday.
He said they finished each other's sentences, were very happy, and planning to move to Florida. He said you couldn't have met a better person.
"I don't know who did it but I hope they don't have another moment of peace for the rest of their life," he said.