This is an archived article and the information in the article may be outdated. Please look at the time stamp on the story to see when it was last updated.
Marlene Owens Rankin says her late father, the great Jesse Owens, deserved better.  Rankin and her sisters are understandably proud of the olympic champion.  Not just for his accomplishments on the track and how he faced down Adolf Hitler at the 1936 Berlin games – but how he lived his life.  In his post-olympic life, Jesse Owens dedicated himself to young people with the family awarding hundreds of scholarships to worthy kids through the Jesse Owens Foundation.
"He was more than just an athlete.  He was a person who gave to community," says Rankin.  "What he did in his lifetime means a lot to a lot of people."
At the corner of 125th street and Jesse Owens Drive, in the west Pullman neighborhood, you'll find Owens school.  The only problem is it's not called  Jesse Owens Elementary anymore.  That school closed – part of the sweeping plan to shutter 49 under-utilized buildings, as the school system struggles to deal with a $1 billion dollar deficit.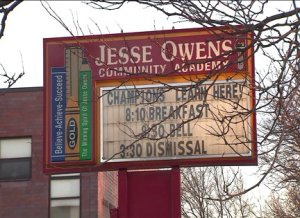 Now it's called "Gompers South," part of a larger Gompers Fine Arts elementary program.   But Rankin still doesn't understand why the building had to lose it's historic name.
"It's very painful to know that someone was hired to chisel his name off the school.  That really hurts.  It's appalling."
Public school spokespeople say it's a community-driven decision – not up to district headquarters.  In a written statement, Becky Carroll says, "local school councils make recommendations on the naming of their schools.  If a local council should vote in favor of a name change, that recommendation would then be brought to the Board of Education for a Vote."
Jesse Owens daughters say it's the right thing to do.