This is an archived article and the information in the article may be outdated. Please look at the time stamp on the story to see when it was last updated.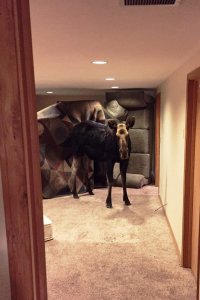 HAILEY, Idaho – A family in Idaho heard a noise downstairs, and discovered this stranger lurking in their basement. It was a moose.
The female animal had fallen into a 3-foot deep window well and made her way into the home, according to Lt. Steve England of the Hailey Police Department.
Officers tried their best to coax the moose up the stairs and back outside, but the moose wanted to stay put. By the time Fish and Game officers arrived, the moose had been in the basement nearly two hours. The animal was tranquilized and then all of the officers helped carry it up the stairs and out the front door.
The cold weather in Idaho has dried up much of the animals' food supply, so authorities are trying to provide them with emergency rations.