CHICAGO — Friends and family are asking for the public's help in locating two missing men last seen in downtown Chicago.
Chicago police said Joseph "Joey" Ramos, 22, and Antonio "Tony" Lemon, 21, were last seen early Sunday November 17 leaving LITE nightclub in the 200 block of West Ontario in River North.
The men were driving a black 4-door Dodge Avenger with Illinois plate AQ54397. The car may have been picked up on a traffic camera eastbound on West Washington near Lasalle Street just after 3 a.m. although it's not clear who was behind the wheel.
Family and friends gathered outside the nightclub Monday to hand out flyers and ask the public to help with information.
"Please. Even if you think it's nothing ….  we're looking for anything right now," Ramos's brother Danny Ramos said. "We haven't heard from either one of them and we haven't been able to locate their vehicle, either."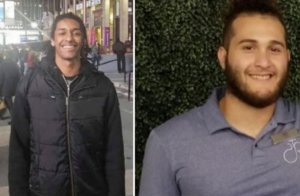 Lemon's mother Catalina Lemon said she is very worried.
"I just want my son and Joey to come home," she said. "They don't do this. It's not just boys being boys. I just want him to come home."
Ramos is 5 feet 7 inches tall and 175 pounds. The name "Eddie" is tattooed on his left thigh. He was last seen wearing a blue Patagonia hoodie.
Lemon is 6 feet 3 inches tall and 170 pounds. He was wearing the red "Miami" hoodie under a black vest.
Anyone with any information is asked to contact police at 312-744-8266.