This is an archived article and the information in the article may be outdated. Please look at the time stamp on the story to see when it was last updated.
The last Mold-A-Rama machine was made in the 60s, but one family has kept them working for decades — and turned them into a Chicago icon. Meet Paul Jones in our latest Faces of Chicago – and subscribe on Facebook Watch to see more stories like this in the future.
Here's the story of Mold-A-Rama, Inc. President Paul Jones – in his own words:
My dad started this business in 1971. He left his accounting business with five kids, and started his own Mold-A-Rama company.
The company, when they were in their heyday, wanted to make everything from, you know, souvenirs to plastic knives and forks and spoons, selling them in vending areas or cafeterias so that people can make their silverware before they sat down to eat.
Originally, they planned to make 1,000 (Mold-A-Rama machines), but we think they stopped around 700. We have a little bit over 100, some of 'em are in deplorable condition that we basically salvaged.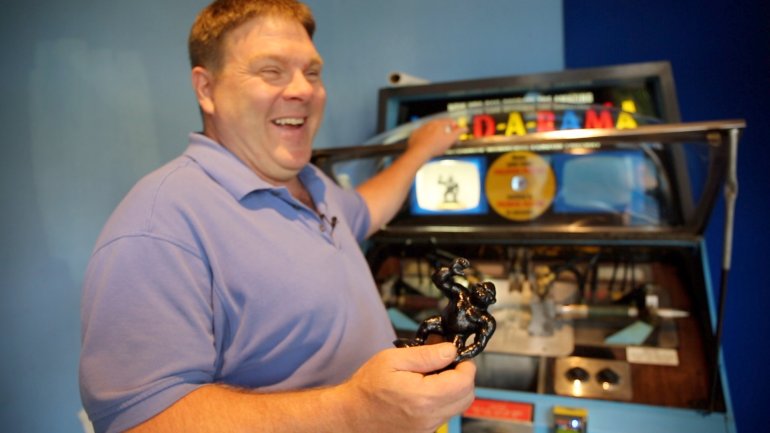 Once you put in the appropriate amount of money, the machine will kick off, the molds will clamp together, then it injects plastic. Actually, in the summer time, (the molds) sweat because they are about 45 degrees and that's the key.
The hot plastic hits the cold mold, and immediately creates the skin and then it blows the extra plastic back into the pot. It breaks probably for about 15 or 20 seconds. It lets the mold cool, and then it will open. It will dispense it by another hydraulic ram kicks it out  and drops it into the dispensing tray.
The original inventor was J.H. Miller or "Tike" Miller. This is late 40s, early 50s. He started making figurines in Chicago out of his basement, and one of his animals  was a gorilla. They could not create the arm in the same manner so they just kinda converted it into this wave.
To me, it's a Mold-A-Rama icon. You'll never find a statue of a gorilla like this anywhere else, except for our Mold-A-Rama.
We have an artist that designs our molds, and either we give her pictures or another 3D model, and then she will either change the scale or come up with something to our dimensions, and make a mold out of it.
Anybody who grew up in Chicago knows Mold-A-Rama. I mean, they've been at the Museum of Science and Industry for 50 plus years; they've been at Brookfield Zoo for 50 plus years.
It's really become more than than just us. I mean I'm proud that that it's been my family that's brought it to this point, to popularity here in Chicago. Over time, it just evolved into this, just because we got up and went to work every day, and did our best job at all times, and try to make decisions more for the customer.
To me, most of this is about a job. My job is to make sure that these things run right. But the feeling when a young child comes up, or an adult, and they get that big smile on their face. You know, that's instant reward. That's an awesome feeling.
Note: this interview was edited for content