This is an archived article and the information in the article may be outdated. Please look at the time stamp on the story to see when it was last updated.
Chicago's first graffiti writers grew it from an outlaw activity to an artform embraced by the city. Here's the story of Tyrue "Slang" Jones, one of Chicago's original graffiti writers, in his own words:
I grew up partially on the West Side of Chicago, then we moved to Wicker Park in '82. I would draw on everything in the house, any letter, any envelope. Poor as we were, it wasn't like yo, you're gonna have to be a lawyer or an attorney, being an artist, you know, could be a dream.
When those trains started popping up and you catch a snippet of whatever movie or what it was on TV, you know those opening credits of "Welcome Back Kotter," they show those trains and I seen the trains as a kid and I remember the trains here they had no writing on them.
What was considered to be an actual graffiti artist is actually an artist that actually paints trains. I didn't do my first train until '84, so I don't consider myself a graffiti writer until then. I took it on myself to jump into the Ravenswood line during the daytime, you know just to go and explore and go up on the sides of the trains.
We was all trying to outdo each other. Everybody's trying to be the biggest and the baddest, or the most original. And we was using the CTA like as our citywide canvases. What you talking about, you got pretty much, look here (points to passing train, which is covered in advertisements) — billboards! And for us it was a free billboard.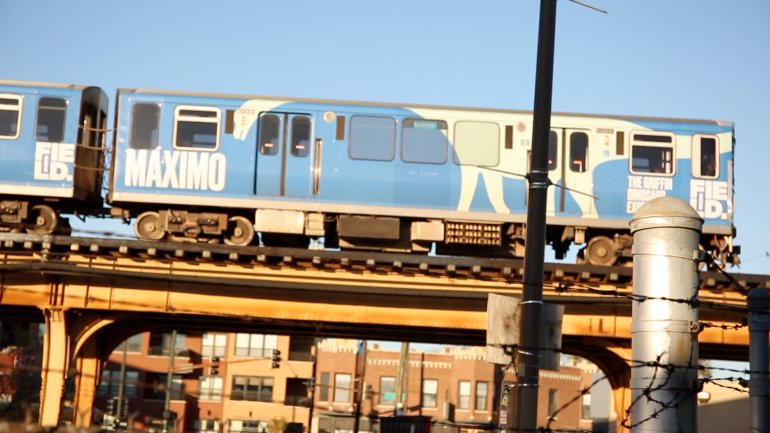 The majority of people did not really fully accept or really understand, it's like anything, people are lost in translation for the most part, they don't understand or can't decipher something. And when graffiti came out, it was these crazy letters that the average person really couldn't read. From the beginning they knew it was being done illegally, so that's all they knew.
The graffiti scene was highly active but most of the artists here were doing more tags, and quick bombing to get up, but we did it for ourselves, there was no fame, there was no long-term goal that you might be taking care of your family with it. It was just right there in that moment, and figuring it out as we went along.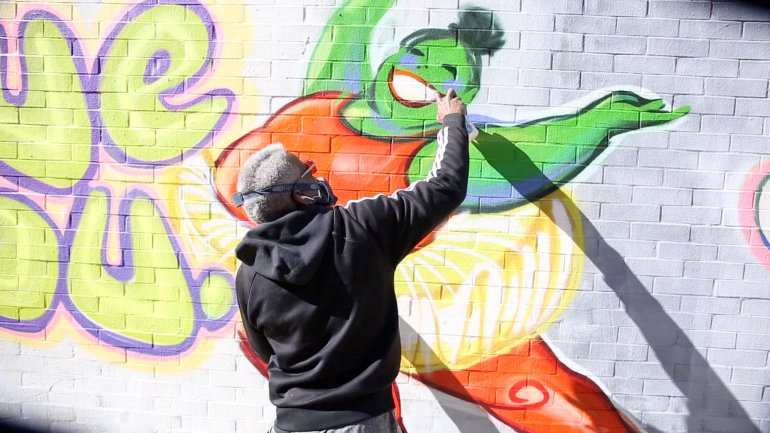 Rafael "WORD" Turner, DJ and graffiti writer
A lot of people that end up being graffiti writers, guys and girls - not just guys, come from broken homes or from being impoverished. And so graffiti let them express themselves, and it was a positive thing at a time where a lot of people were doing negative. People were getting hooked on drugs, people were robbin,' people were gang bangin.'
And graf I seen change a lot of people's lives, me and Slang for one, are living proof of it that this is something more than art, it's more than art, it's life-changing, it's life-altering.
Tyrue "Slang" Jones
We had heavy weight gang issues in the mid 80s, when it was at its heaviest. We was running from the police and the gang bangers.
We were kinda like, you know, creative geeks. We was influenced by like almost every genre of art, depending on what you came from. Some guys cartoons, some guys realistic and classic painters, and most artists incorporated the things that they like or love into their methods. Styles are like a personality, like an alter ego in a sense. A lot of the names we adopted came from it being that outlaw artform.
We didn't know we were gonna have careers tied to it back in the 80s, no idea. I was working at Old Country Buffet and one of my buddies had started the rumor, Slang is running around with all that talent and he works at Old Country Buffet - and he was right.
I got out of it for awhile, you know. I started working commercial work, animation, television animation, Charlie the Tuna to Animaniacs. If you got four kids at the house, basically you're not trying to go to the train yards, you're going to work in the morning to make sure your family is taken care of.
I think right now it's at it's peak, it's bigger than it's ever been. And the newer wave of artists who are really kinda doing what we hoped for when we were purists. We used to have this thing like, at some point they'll respect us. You know, when it was the new art form.
It's permanent and it's temporary at the same time, you know, but just those few moments that someone goes by a piece or something that's different, it changes the whole landscape. It has you know, a color, a frequency. Art is healing.
Note: this interview was edited for content.