This is an archived article and the information in the article may be outdated. Please look at the time stamp on the story to see when it was last updated.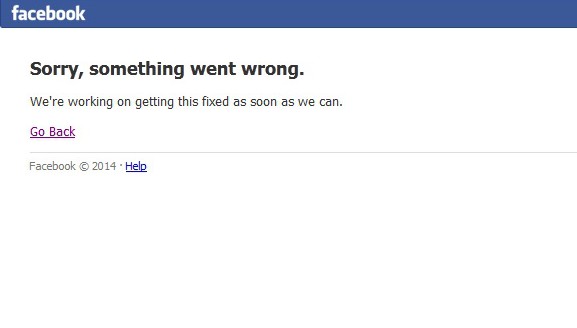 Facebook users were having a difficult time logging into their accounts Friday morning.
The social networking site was apparently down for about 30 minutes or so.
Some users received a message reading "Sorry, something went wrong" when attempting to access the site.
Further details were not immediately available.
Our short, international dream is over. Facebook is back up. #FacebookDown

— WGNMorningNews (@WGNMorningNews) August 1, 2014
C'mon Putin. On a Friday? Really? #FacebookDown pic.twitter.com/VCSWjc9fXj

— WGNMorningNews (@WGNMorningNews) August 1, 2014
Now is the PERFECT time to get Grandma signed up for The Twitter. #FacebookDown

— WGNMorningNews (@WGNMorningNews) August 1, 2014
Dang. #Facebook still down. Let's kill some time w/this @LarryPotash Is It Cat Litter or a Military Operation quiz http://t.co/elZrX9ovpt

— WGNMorningNews (@WGNMorningNews) August 1, 2014
We will now live tweet the #Facebook outage. OOOOOOOK, it's still down.

— WGNMorningNews (@WGNMorningNews) August 1, 2014
#Facebook is down. FYI for those of you that like that kind of thing.

— WGNMorningNews (@WGNMorningNews) August 1, 2014