This is an archived article and the information in the article may be outdated. Please look at the time stamp on the story to see when it was last updated.
CHICAGO — Today is the day, Chicago! The city will be celebrating World Series Champion Cubs with a rally and parade Friday.
SCHEDULE
The Cubs will leave the ballpark at 10 a.m. and work their way south toward downtown before a noon rally, but city officials did not release the entire route. Instead, the city is asking fans to view the parade at three locations:
Addison Street from Sheffield to Pine Grove avenues
North Michigan Avenue from Oak to Ohio streets
Columbus Drive between Monroe Street and Balbo Avenue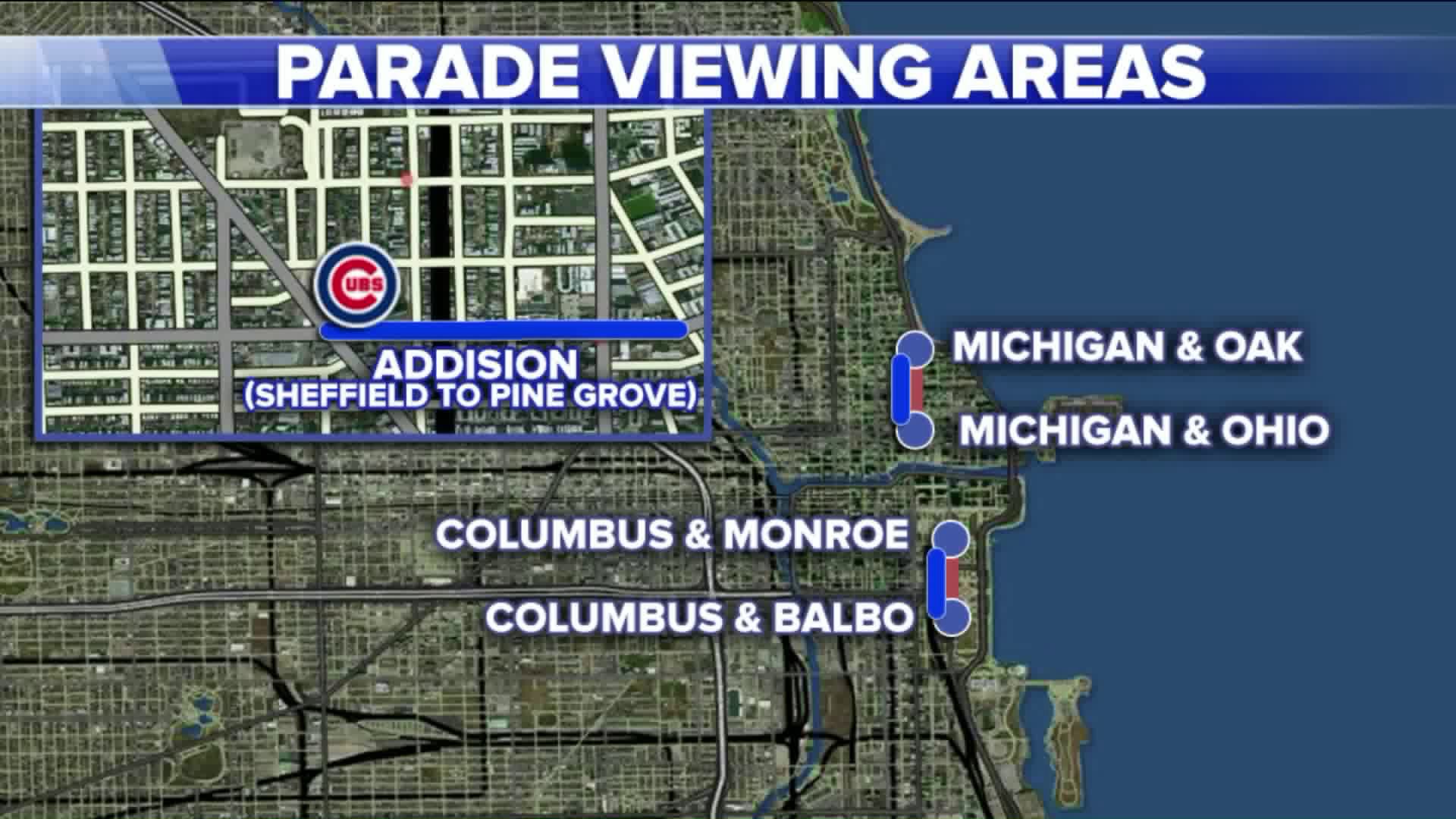 "There will be zero tolerance for drinking on the public way," city officials said.
RALLY
The rally will take place at Lower Hutchinson Field in Grant Park at approximately noon, when the motorcade arrives in Grant Park. The rally is free and open to the public. All attendees must pass through security screening at entrances at Michigan Ave. and Jackson Blvd., and at Michigan Ave. and Congress Pkwy. Closed water bottles will be allowed into the rally and food vendors will be on site.
HOW TO GET THERE:
Officials are encouraging fans to use public transportation.
The Chicago Transit Authority (CTA) will offer additional service to customers traveling into the Loop on Friday. Riders are advised to allow plenty of travel time due to street closures, traffic congestion and reroutes. CTA's Red and Blue subway lines and Brown, Green, Pink and Orange elevated lines are the best option for Cubs fans heading downtown for the parade and rally.
#CTA: For tomorrow's #WorldSeries parade/rally, bikes will NOT be allowed on trains & strollers/carts must be folded from 6am to 6pm.

— WGN-TV Traffic (@WGNtraffic) November 3, 2016
Additional service will be provided on all eight rail lines following the morning rush period through midday. CTA buses will be detoured in the downtown area during the parade and as a result of street closures for the rally. Detailed service information is available at www.transitchicago.com.
To speed travel and reduce lines, customers are encouraged to buy fare cards in advance with sufficient value or to add enough value to their existing Ventra cards for their return trips later in the day.
Metra will use all available resources to add extra train service and capacity. Trains are expected to reach capacity on all lines and delays are expected.
#Metra Alert UP-W -FILLED TO CAPACITY FOR CUBS PARADE. Train #14 Sched. to Arrive Chicago at 7:04 AM – Expressing from Elmhurst to Chicago

— WGN-TV Traffic (@WGNtraffic) November 4, 2016
Metra is offering a one-day $5 unlimited ride ticket for Friday's celebration and encouraging all passengers to purchase it in advance.
Here's everything you need to know about riding Metra to the #CubsRally: https://t.co/giAzo9bhVd pic.twitter.com/jW8DJyAPFe

— Metra (@Metra) November 3, 2016
PARKING RESTRICTIONS
There will be rolling closures on Michigan, Roosevelt and Randolph for the parade.
In Wrigleyville, the following closures are in place:
Clark – School/ Aldine to Irving Park (Both Sides)
Sheffield – Roscoe to Irving Park (Both Sides)
Addison – Lake Shore Drive to Southport (Both Sides)
Addison – Southport to Ashland (North Side)
Racine – Roscoe to Grace/ Clark (Both Sides)**
Patterson – Racine to Clark (Both Sides)
Waveland – Racine to Clark (Both Sides)
Eddy- Racine to Clark (Both Sides)
Cornelia – Racine to Clark (Both Sides)
Newport – Racine to Clark (Both Sides)
Waveland – Fremont to Halsted (South Side ONLY)
Clifton – Waveland to Grace (Both Sides)
Seminary – Waveland to Grace (Both Sides)
Kenmore – Waveland to Grace (Both Sides)
Seminary – Newport to Eddy (Both Sides)
Irving Park – Clark to Seminary (Both Sides)
Inner Lake Shore – Belmont to Addison (East Side)
Grace and Waveland – Clark to Wilton (Both Sides)
Street Closures will be implemented as deemed necessary by the Chicago Police Department:
Sheffield (Addison to Waveland)
Waveland (Sheffield to Clark)
Clark (Irving Park to Belmont)
Addison (Racine to Lake Shore Drive)
Grace (Clark to Sheffield)
If you can't make it down to the parade or rally, that's OK! WGN will be covering all — our coverage starts at 9am on-air and online at wgntv.com.