This is an archived article and the information in the article may be outdated. Please look at the time stamp on the story to see when it was last updated.
MIDLOTHIAN, Ill. — Protesters gathered at the Midloth Police Department to demand justice after the fatal shooting of a Robbins bar security guard over the weekend.
Jemel Roberson, 26, was shot dead by a Midlothian police officer responding to a shooting inside Manny's Blue Room Bar in Robbins, Illinois, about 4 a.m. Sunday. Witnesses said officers shot at the wrong man.
"Everybody was screaming out, 'Security!' He was a security guard," witness Adam Harris said. "And they still did their job, and saw a black man with a gun, and basically killed him."
It all began when security asked a group of drunken men to leave Manny's shortly before 4 a.m. Sunday. Witnesses said someone came back with a gun and opened fire. Security returned fire, witnesses said, and Roberson was able to detain one of the men involved outside.
"He had somebody on the ground with his knee in back, with his gun in his back, like, 'Don't move,'" Harris said.
Soon after, according to witnesses, an officer responding to the scene shot at Roberson — killing him. Witnesses said Roberson had a bulletproof vest on that said "Security" on it.
Four other people, including the suspected shooter, sustained non-life threatening injuries.
Basketball player Dwyane Wade weighed in on the fatal shooting and said he was "speechless" about the incident.
"Even after hearing he was one of 'the good guys' he's still shot like his life doesn't matter," his tweet said. He went on to say that he grew up near Manny's Blue Room and said the incident "hurts his heart."
Speechless! Even after hearing he was one of "the good guys" he's still shot like his life doesn't matter! A man that was doing his job to protect the lives of others and protect the town he lived in. I grew up streets away from Mannys Blue Room in Robbins this hurts my heart. https://t.co/WRB7zMXjgF

— DWade (@DwyaneWade) November 13, 2018
A spokeswoman for the Cook County Sheriff's Office said Roberson had a valid FOID card, but did not have a concealed-carry license.
In a statement, Midlothian police confirmed two officers from the department responded to the scene of the shooting and that one of them opened fire.
"A Midlothian officer encountered a subject with a gun and was involved in an officer-involved shooting. The subject the officer shot was later pronounced deceased at an area hospital," Chief Daniel Delaney of the Midlothian Police Department said in a statement.
Friends said Roberson was an upstanding guy who had plans to become a police officer. He was also a musician, playing keyboard and drums at several Chicago-area churches.
"Every artist he's ever played for, every musician he's ever sat beside, we're all just broken because we have no answers," the Rev. Patricia Hill from Purposed Church said. "He was getting ready to train and do all that stuff, so the very people he wanted to be family with, took his life."
"Once again, it's the continued narrative that we see of shoot first, ask questions later," the Rev. LeAundre Hill said.
The Cook County Sheriff's Office is handling the criminal investigation of the original shooting, while the State Police Public Integrity Task Force is investigating the police-involved shooting.
The police department posted on Facebook Tuesday saying they were "completely saddened by this tragic incident."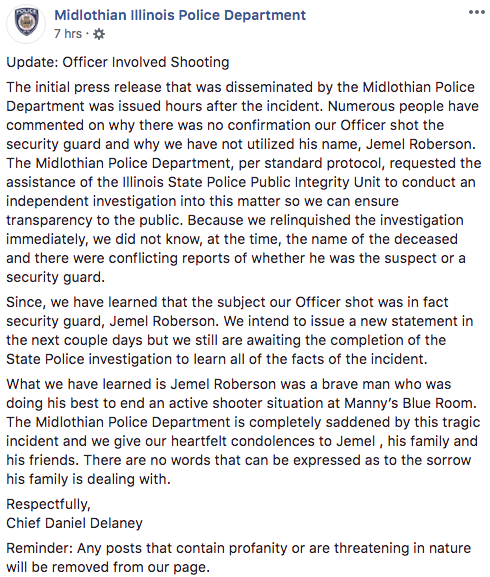 Officials said the officer who shot Roberson was placed on administrative leave as state police investigate whether the shooting was justified. The officer was on the police force for seven years.
Roberson's family said in addition to the holding the officer who shot him responsible, his family wants Roberson to be remembered as a hero.
His family and friends believe there was a racial element to the situation because the cop who shot him was white.
His family filed a lawsuit against the officer who shot him and the city's police department. The lawsuit seeks damages in excess of $1 million.
A GoFundMe page has been set up to help cover funeral costs. Click here for more information.
Roberson was a graduate of Lane Tech High School and was a member of the basketball team, according to the team's Twitter page.
Roberson left behind a son.
It is with great sadness that we inform you of the tragic passing of 2010 Lane Tech graduate and Lane Tech Basketball alumn, Jemel Roberson. We pass along our deepest condolences to the friends and family of Jemel. Jemel had a big smile and a bigger heart. You will be missed. pic.twitter.com/gpdrI6qQtc

— Lane Tech Basketball (@LaneTechHoops) November 12, 2018
In a separate incident from the protest on Tuesday, two men poured fake blood on the steps of the Midlothian Village Hall. The men ran away. It is unclear if they were caught or arrested.