This is an archived article and the information in the article may be outdated. Please look at the time stamp on the story to see when it was last updated.
Dozens were injured and one man was killed, when a school bus collided with two other vehicles Friday morning.
The crash happened at Route 173 and Kilbourne Road near Wadsworth at about 8 a.m. Friday. The bus was going westbound to the Newport Elementary School, and a Jeep Wrangler was heading southbound. A Jeep Cherokee was also hit.
The driver of the Wrangler was killed. He was identified by the Lake County Coroner as 62-year-old Philip Smith of Beach Park.
Initially, Lake County Sheriffs officials said the bus may have run a red light; but, at a news conference Friday afternoon, they said there are conflicting witness reports as to whether the light was red or not. A traffic light was only installed at the intersection in the last year, officials said.
The Lake County Sheriff's Department is doing urine and blood tests on the female bus driver as part of standard operating procedure.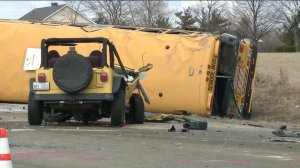 During the afternoon news conference, Gurnee Deputy Fire Chief John Cavanaugh said there was a total of 39 people involved in the incident: 12 were transported to area hospitals by ambulance, 23 were transported by a school bus to a local hospital, two were transported to the hospital by a passersby, one signed a medical release at the scene and one was pronounced dead at the sence.
Twenty-five total patients — 23  children — were taken to Advocate Condell Medical Center in Libertyville. As of 2 p.m. Friday, only one patient remained at the hospital under observation. All other patients were discharged.
Another 12 kids and several other victims were transported to Vista Medical Center East in Waukegan and St. Catherine's Hospital in Pleasant Prairie, Wis. As of Friday afternoon, all the patients were released from both of
Eighteen ambulances and 27 fire departments from Illinois and Southern Wisconsin responded to accident
PARENTS OF STUDENTS FROM NEWPORT ELEMENTARY, CALL HERE FOR INFO: (847) 599-5330