This is an archived article and the information in the article may be outdated. Please look at the time stamp on the story to see when it was last updated.
The Justice Department and attorneys general from six states and the District of Columbia filed a lawsuit Tuesday challenging the $11 billion merger of American Airlines and US Airways, saying the combination would lead to higher prices and less service for consumers.
The merger, which would create the world's largest airline, would "substantially lessen competition" for commercial air travel, contends the complaint, filed in U.S. District Court in Washington.
A top concern is local markets, the Justice Department said. It cited the example of Ronald Reagan Washington National Airport, where the combined airline would control 69% of takeoff and landing slots, and 63% of the outbound nonstop routes.
The Justice Department also said in its complaint that if the two airlines were allowed to merge, there would be higher fees for baggage and flight changes.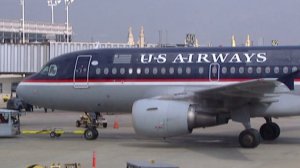 The lawsuit comes as somewhat of a surprise. In recent years the Justice Department has allowed other big airline mergers — Delta gobbled up Northwest, and United absorbed Continental — in part because the airline industry was losing so much money and the mergers were seen as necessary for survival.
But airlines are now making billions of dollars, not only from higher fares but also from $6 billion in fees they collected in 2012 alone, for baggage and seat selection and other things that used to be included in fares.
American and US Airways had touted their combination as one that "joins two highly complementary networks with access to the best destinations around the globe — offering you increased choices, improved efficiency and better options" under American's Oneworld alliance.
The Justice Department lawsuit cites internal documents from the airlines to show that the merger isn't needed and in fact would lead to cuts in programs that benefit travelers. An example is American's Advantage Fares discount program, which American executives said would likely be eliminated after the merger, according to the Justice Department.
Without the merger, the Justice Department said, other airlines would be forced to continue to match American's discounts to compete.
TM & © 2013 Cable News Network, Inc., a Time Warner Company. All rights reserved.