This is an archived article and the information in the article may be outdated. Please look at the time stamp on the story to see when it was last updated.
The dog who was rescued during a daring drama on icy Lake Michigan Friday afternoon might be reunited with his owner on Sunday.
The dog, Pifas, a three-year-old duck tolling retriever, was spotted Friday about a half-mile off shore prompting an emergency response at Leone Beach Park, on Chicago's Far North Side.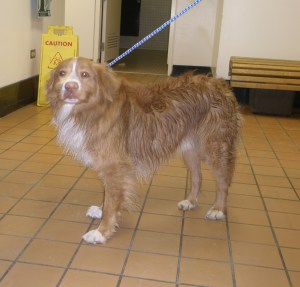 A police helicopter and a fire department boat prodded the dog closer to shore, and a Good Samaritan kayaker, Dave Kehnast,  also helped with the effort, as Pifas jumped from ice chunk to chunk, occasionally falling into the freezing water.
As the rescue attempt was caught on live television, Nerijius Steponavicius, of Wicker Park, says his cell phone was ringing non-stop, from calls from people who recognized the dog from flyers he had posted throughout the city.
It turned out Pifas escaped from his Wicker Park apartment February 13th as the landlord did some maintenance work and Steponavicius had been searching for Pifas ever since.
Once the dog reached safe ground after the hour-long ordeal, he took off running.
Workers with Chicago Animal Care and Control caught up with the dog in an alley near Pratt and Sheridan.
Steponavicious tried to pick up Pifas from Animal Care and Control Friday night, but he was told to come back Saturday during regular business hours. However, it then turned out the dog had to be neutered; it's a city ordinance. So Pifas should be recovered enough to go home on Sunday.
Steponavicious meanwhile, says he wants to thank Kehnast for his help and hopefully buy him dinner.