This is an archived article and the information in the article may be outdated. Please look at the time stamp on the story to see when it was last updated.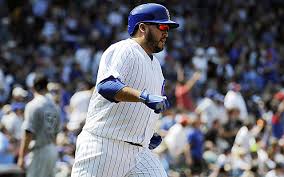 Brewers are here for the weekend. Here's a fun little trivia question for you. Among NLers with at least 75 plate appearance in the month of August there have been 9 hitters to post an OPS (on base + Slugging of 1.000 or better. Three of these players will be on display this weekend at Wrigley. Anyone? Anyone? Bueller?
Times up: Leading the NL with an August OPS ( and it really is august) of 1.106 is Brewers infielder Scooter (not a muppet) Gennett. He batted .423 with a .452 on base % and slugged a robust .654.
#6 on the list is Brewer Khris ( don't call me Krash) Davis. He fashioned a triple slash line of 318/383/635.
#9 with an OPS of 1.000 is the Cubs Donnie "Bleeping" Murphy. Donnie delivered a .282/.365/635. stat line. Pretty good stuff from 3 guys most fans probably had never heard of prior to last month.
Speaking of numbers. Dionner Navarro has hit a career high 11 Home runs in a part time role. Among players with at least 200 plate appearances this season his 16.7 AB/HR ratio is 8th best in the NL. He ranks just behind MVP candidate Paul Goldschmidt and just ahead of former MVP Troy Tulowitzki. Credit Dionner for having his best season with the bat and Dale Sveum for putting him in situations where he can flourish.
Have a nice weekend.
Go Bears
jd