This is an archived article and the information in the article may be outdated. Please look at the time stamp on the story to see when it was last updated.
He was "the kindest, most generous soul and a brilliant artist," Elton John wrote on Instagram, leading tributes to George Michael who died aged 53 on Christmas Day.
The singer is believed to have died from heart failure, his manager Michael Lippman said, according to the UK-based Press Association.

Michael's death, which is being treated as "unexpected but not suspicious" by police, was also confirmed by the singer's family.
"It is with great sadness that we can confirm our beloved son, brother and friend George passed away peacefully at home over the Christmas period," said a statement from Michael's family.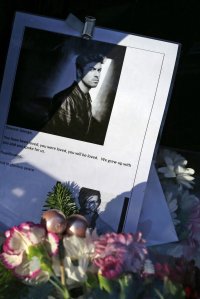 In a career spanning four decades, Michael sold over 100 million albums and had 11 UK number ones with songs such as Careless Whisper, Faith, Outside and Freedom! 90.
After enjoying early success in the duo Wham! alongside friend Andrew Ridgeley, he built a solo career which catapulted him to further stardom, awards and riches.
Ridgeley, the other half of Wham!, was one of the first to react to the news, tweeting that he was "heartbroken".
Heartbroken at the loss of my beloved friend Yog. Me, his loved ones, his friends, the world of music, the world at large. 4ever loved. A xx https://t.co/OlGTm4D9O6

— Andrew Ridgeley (@ajridgeley) December 26, 2016
Singer Bryan Adams tweeted: "Such an incredible singer and a lovely human being, far too young to leave us."
RIP George Michael. I can't believe it. Such an incredible singer and a lovely human being, far too young to leave us #georgemichael

— Bryan Adams (@bryanadams) December 25, 2016
Comedian Ellen DeGeneres said Michael "was such a brilliant talent. I'm so sad."
I just heard about my friend @GeorgeMichael's death. He was such a brilliant talent. I'm so sad.

— Ellen DeGeneres (@TheEllenShow) December 25, 2016
I've loved George Michael for as long as I can remember. He was an absolute inspiration. Always ahead of his time.

— James Corden (@JKCorden) December 25, 2016
The two-time Grammy Award recipient "became one of the most beloved pop craftsmen and respected entertainers," said Neil Portnow, president/CEO of The Recording Academy, which awards the Grammys.
"From the enormous success he achieved with pop duo Wham! to his influential solo career, his extraordinary talent had a profound impact on countless entertainers worldwide, and his creative contributions will live on forever," Portnow said in a statement.
Music world in mourning
Reaction continued to pour in after the announcement of Michael's death.
Robbie Williams was left stunned by the news, writing, "Oh God no...I love you George...Rest in peace."
Boy George, who fronted British band Culture Club, said Michael's death was "devastating."
"I am thinking of @GeorgeMichael's family, friends and fans right now," he wrote on Twitter.
"He was so loved and I hope he knew it because the sadness today is beyond words. Devastating.
"What a beautiful voice he had and his music will live on as a testament to his talent. I can't believe he is gone. I hope the Buddha will hold him in his arms."
@GeorgeMichael. Words can't express how much you and your music meant and means to me. Please play his music as loud as you can today... pic.twitter.com/ojnEircyQM

— Sam Smith (@samsmith) December 26, 2016
I would not be the artist I am if it wasn't for you. @GeorgeMichael

— Sam Smith (@samsmith) December 26, 2016
Holly Johnson, lead singer of Frankie Goes To Hollywood, said: "Sad to hear the news about George Michael, and so many great singers and songwriters we lost this year."
Music contemporaries Spandau Ballet said: "We are incredibly sad at the passing of our dear friend George Michael. A brilliant artist & great songwriter."
Michael's death comes at the end of a year that has seen the passing of several music superstars, including David Bowie, Prince and Leonard Cohen.
Simply Red said: "Its hard to take in. One of our most talented singer songwriters has left us. RIP George Michael. Such sad, tragic news. 2016 please end."
Matt Goss, singer in the band Bros, said: "George Michael was part of the tapestry of my life. His songs his lyrics & his melodies, True pop royalty! Heartbroken, RIP dearest George."
George Michael was a kind and gentle soul. #Wham

— Ryan Reynolds (@VancityReynolds) December 26, 2016
Very sad to hear about George Michael. He was a lovely person.

— Johnny Marr (@Johnny_Marr) December 26, 2016