This is an archived article and the information in the article may be outdated. Please look at the time stamp on the story to see when it was last updated.
LOS ANGELES — Jenifer Lewis stood with Nike in a metal-studded swoosh sweatshirt on the Emmys new gold carpet Monday night.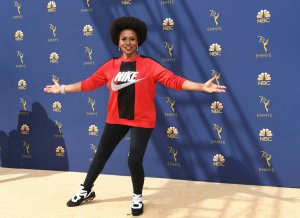 The look for Lewis, the "Black-ish" actress, came after Nike faced backlash for featuring quarterback Colin Kaepernick as the company's new face. She wore a red-and-black sweat shirt with Nike emblazoned on it and the bedazzled swoosh. She accented her black leggings and black-and-white pattern boots with a diamond bracelet and ring.
Lewis said she wore Nike "in support of Colin Kaepernick's protest against police brutality and racial injustice," referring to the quarterback's controversy after first taking a knee.
"I want to speak to the millennials today to let them know they are not alone when they speak out," said the 61-year-old Lewis. "We are not living in dark times. We are living in awakening times, and I am proud to be one of the leaders in the movement."