This is an archived article and the information in the article may be outdated. Please look at the time stamp on the story to see when it was last updated.
CHICAGO -- Dangerous weather hit Chicagoland overnight with high winds and flash flooding.
The heavy rain caused flooding and cleanup problems to some residences and roads across the area.
ComEd has reported thousands of power outages in McHenry, Cook, Lake, Kane and DuPage counties.
Some residents in the northern suburbs evacuated overnight due to the severe weather and flooding.
Heavy rain pounded Wilmette where several streets are filled with standing water, making travel hazardous.
High winds knocked down several tree branches. At Green Bay and Linden, one person was struck by a car and taken to the hospital. The person's condition is unknown at this time.
Garages and basements are ankle-deep, and in some cases knee-deep in standing water in Fox Lake.
Police brought plastic rafts to help motorists whose cars got stranded in the flooding. We are not aware of any injuries due to the flooding in Fox Lake.
All Metra trains stopped in Libertyville due to severe flooding; CTA Blue Line honoring Metra tickets pic.twitter.com/JOb1diYYzD

— WGN TV News (@WGNNews) July 12, 2017
LIBERTYVILLE: Woman climbs out of car stuck in high water. (River Rd near Buckley) #Skycam9 pic.twitter.com/xoz4tzpvD6

— Sarah Jindra (@SarahJindra) July 12, 2017
A driver was left stranded due to the flooding in Libertyville on River Rd near Buckley Rd. She was able to walk her way through the high-standing water, where rescue crews were waiting.
Water at least thigh deep. Driver continues to walk towards dry land- River Rd near Buckley Rd. pic.twitter.com/z0CG2v4kKL

— WGN-TV Traffic (@WGNtraffic) July 12, 2017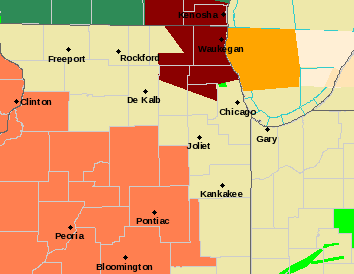 The National Weather Service in Chicago has extended the Flash Flood Warning (Dark red-shaded area on the highlighted map) until 11 a.m. Wednesday for…
  Lake County in northeastern Illinois…
  McHenry County in northeastern Illinois…
  Northern Du Page County in northeastern Illinois…
  Northern Kane County in Northeast Illinois
  Northwestern Cook County in northeast Illinois
This is a developing story. Check back for details.