This is an archived article and the information in the article may be outdated. Please look at the time stamp on the story to see when it was last updated.
CHICAGO – It might have seemed a formality considering the team's play at the end of the 2015 season and their acquisitions this offseason, but today Sports Illustrated made a bold prediction about the Cubs for the 2016 season.
In their annual baseball preview the magazine picked the team to reach the World Series and placed Jake Arrieta, Kris Bryant, Jason Heyward and Anthony Rizzo on the regional cover of the publication.
https://twitter.com/SInow/status/712294915921805312
It's the second time in the last seven months which the team has graced the cover of Sports Illustrated. After a big run in August the team, specifically Kris Bryant, was placed on a regional cover as they made their way towards their first postseason appearance since 2008.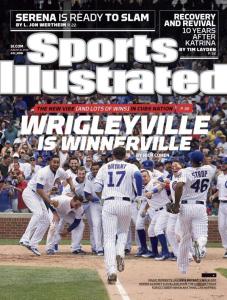 Unfortunately for Cubs fans, the magazine sees the team only ending it's 71-year World Series drought. The magazine predicts the Cubs will win the National League pennant but lose to the Houston Astros in the World Series.
This is not the first time that Sports Illustrated has picked the Cubs to do big things in the postseason. In 2004 Kerry Wood was on the cover of the magazine's preview that picked the team to win the World Series. A late season collapse kept the team out of the postseason just a year after they reached the National League Championship Series.
In 2008 Sports Illustrated picked the Cubs to win the National League pennant but lose to the Tigers in the World Series. Indeed the Cubs finished with the National League's best record that season but were swept by the Dodgers in the National League Division Series.