This is an archived article and the information in the article may be outdated. Please look at the time stamp on the story to see when it was last updated.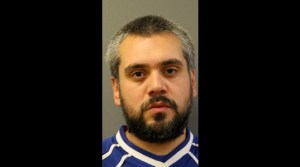 CHICAGO — A man wearing a Cubs jersey who had a "bleed blue" tattoo on his leg was arrested in Portage Park over the weekend after being accused of stabbing another man seven times in the stomach.
Noe Pereda, 30, of Chicago was charged with felony aggravated battery/use of a deadly weapon.
According to police reports, Pereda was walking his pit bull early Saturday on the 5700 block of West Waveland Avenue when the stabbing occurred. He gave responders the knife and told them he stabbed the victim in self defense.
He also told officials he consumed "numerous beers" and smoked marijuana before his arrest.
He was still wearing his Cubs jersey in court Sunday when he was held on $100,000 bail.
The victim was still in critical condition Sunday.