This is an archived article and the information in the article may be outdated. Please look at the time stamp on the story to see when it was last updated.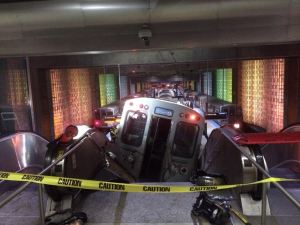 The CTA train operator in the Blue Line derailment at O'Hare Airport  has been fired.
The incident, which occurred on March 24, was the second of two serious safety violations for the operator, and to according union contract, it is within the CTA's rights to seek termination following two such violations, CTA spokeswoman Tammy Chase said.
The second violation occurred prior to the derailment on February 1, when the train operator apparently dozed off and overshot the Belmont station so that it was unsafe to open car doors. The CTA admonished her but she was allowed to continue working.
While the operator admitted to falling asleep at the controls when the train derailed in March, the CTA refutes that the same thing happened in the February incident. The CTA claims she said she overshot the Belmont station platform when she "closed her eyes for a moment."
The CTA says its taking "proactive steps" to increase safety by creating new rules for workers.
Operators can only drive a train for a maximum of 12 hours in a 14-hour period
Minimum rest time between shifts has been increased to 10 hours from 8 hours
Operators are limited to 32 hours/week during the first year of driving trains
All workers must have at least one day off in a 7-day period
The CTA says Haywood has not been in contact with the agency since the incident and has ignored two hand-delivered notices to appear at CTA headquarters for a disciplinary hearing.