This is an archived article and the information in the article may be outdated. Please look at the time stamp on the story to see when it was last updated.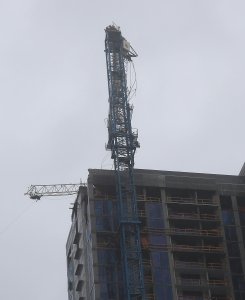 MIAMI — The National Weather Service says that a crane has collapsed in Miami as strong wind from Hurricane Irma blows in. It's one of two-dozen in the city.
The weather service's Miami office said in a Tweet that one of its employees witnessed the crane boom and counterweight collapse in downtown Miami. The employee captured video of the collapse. It wasn't immediately clear if the collapse caused damage or injuries. The cranes have been a concern.
Construction sites across Irma's potential path in Florida were locked down to remove or secure building materials, tools and debris that could be flung by Irma's winds.
But the horizontal arms of the tall tower cranes remained loose despite the potential danger of collapse. According to city officials, it would have taken about two weeks to move the cranes and there wasn't enough time.
The National Hurricane Center says Category 4 Hurricane Irma is now "headed for the southwest Florida coast" as winds continue to pick up speed in all of South Florida.
Irma continues to be armed with 130 mph winds as its large eye passes north of the Keys.
Storm surge is forecast for 10 to 15 feet in southwestern Florida.
Hurricane-force winds are continuing throughout southern Florida, including the Keys. The hurricane center warns that winds affecting upper floors of high-rise building will be much stronger than at ground level.
The hurricane center also emphasizes that Irma will bring life-threatening wind to much of Florida regardless of the exact track of its center.