This is an archived article and the information in the article may be outdated. Please look at the time stamp on the story to see when it was last updated.
The Chicago Public Schools CEO is angrily rejecting the accusations that a school closing plan is racially motivated.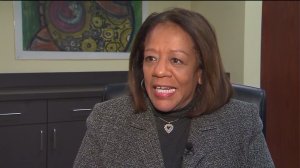 54 schools have been targeted for closure because they are under-performing or under-enrolled.
Most are in predominantly black neighborhoods.
But CEO Barbara Byrd-Bennett told a school board meeting, "When status quo is not working, change is inevitable. What I cannot understand, and what I will not accept are charges that the proposals I am offering are racist."
Outside the school board meeting, some angry teachers marched to protest the impending closings.
CEO Bennett says, real racism is allowing children to keep attending failing schools.