This is an archived article and the information in the article may be outdated. Please look at the time stamp on the story to see when it was last updated.
CHICAGO — Chicago police are warning residents after a woman was assaulted after getting off a CTA train early Saturday morning.
According to police the victim, 31, exited the CTA Red Line at Harrison and State between the hours of 3:00-3:35 a.m. when she was followed by an unknown male offender.
The woman was walking southbound in the 600 block of South Plymouth Court when the man grabbed and struck her with a blunt object, police said.  He then forced the victim to a secluded area where he sexually assaulted her.
According to police the offender also took the woman's purse and fled in an unknown direction.
Police released a series of surveillance images of the suspect.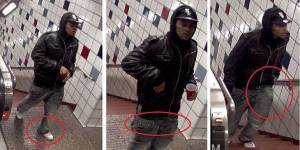 Police describe the suspect as a black male between 20-27 years old, between 5 feet 8 inches and 5 feet 10 inches tall, with brown eyes and a light complexion. He was seen wearing a black leather jacket, a black hoodie and a Chicago White Sox baseball cap. He had short hair and was also seen with blue jeans and white gym shoes, according to police.
In their alert police remind residents in the area to be aware of their surroundings and to never pursue a fleeing assailant.
Anyone with information is asked to call Area Central detectives at 312-747-8380.