This is an archived article and the information in the article may be outdated. Please look at the time stamp on the story to see when it was last updated.
For Stephanie Baliga, her early morning runs are a daily endeavor of endurance.  One she meets with enthusiasm and energy of body and spirit.
Stephanie Baliga is also known as Sister Stephanie, from the community of Franciscans of the Eucharist.
She runs through Chicago's Humboldt Park each day before dawn and returns back in time for mass at the rectory of the Mission of Our Lady of the Angels. The 25-year-old moved to the city's West Side and to religious life three years ago, after graduating as a scholar athlete from the University of Illinois- Champaign.
There, she was the sixth freshman in the nation while participating in cross country when tragedy occurred.
Stephanie broke her foot while running and didn't take that setback in her varsity career very well at all.
"When that was taken away, I felt like my whole life had been taken away," she says.
It was then she says that her focus took a turn  to higher considerations.  After six months of involvement at the campus Catholic Newman Center, she said she had a new mindset and a new vocation to religious life.
"God did not value me because I was fast," she says.  "God valued me because I was Stephanie Baliga."
But Stephanie had a critical question: could a nun….run?
The answer was yes as long as she covered her knees and her head before heading off.
Stephanie also works to provide food to 700 families a month. 900 neighborhood kids participate in the mission's after school programs. Every Tuesday, the mission hosts a program for seniors which includes exercise, computer classes, and bible study
The services they extend to the city's West Side cost. Sister Stephanie had a solution to some financial strain: A marathon team that collects pledges from supporters.  Last year they raised $26,000 dollars.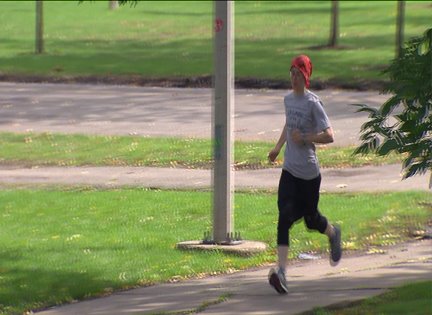 More than 40 have joined Sister Stephanie's team seeking pledges and support for marathon day.
Not only is Sister Stephanie seeking to raise big bucks, secondarily, she hopes to qualify for next year's elite corral. Her goal is to finish the marathon in about three hours. That would qualify her for Boston with a pace of well under 7 minutes a mile.  But Sister Stephanie wants to remind us, that's not what truly matters.
"My worth is not through my actions, my worth is because I exist and God wanted me here and I am a child of God," she says.
For more information and how you can help, log on to http://missionola.com/