This is an archived article and the information in the article may be outdated. Please look at the time stamp on the story to see when it was last updated.
"Stop the Violence."  You hear that often in Chicago, but what will it take to make it happen? Police say they can't do it alone, they need community cooperation.  But some residents are afraid to help and just don't trust police.
WGN'TV's Gaynor Hall has some very raw examples of this "Us versus Them" mentality. And a behind-the-scenes look at one way the Chicago Police Department is trying to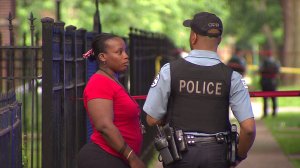 change that.  The key word is "respect", and everyone wants is, police and the general public.  Last fall, Chicago Police officers started taking a mandatory class to remind them of the benefits of respectful policing.  The thinking is, with time, they can build better relationships, crack the code of silence, and make Chicago a safer city for everyone.
Producer Pam Grimes and Photojournalists Mike D'Angelo and Ted Parra contributed to this report.