This is an archived article and the information in the article may be outdated. Please look at the time stamp on the story to see when it was last updated.
Concealed carry is the law now in Illinois.  That means paperwork, background checks and hours of training for people who want to carry guns.
And a surprising number of those applications are being filed by women.
Illinois State Police say almost 12% of those concealed carry applications coming in state are from women.
And firearms trainers say they expect that number to grow as they see interest building.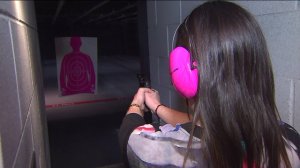 Nationwide the number of women who owned guns spiked to 23% in 2011, compared to 13% in a 2005 according to the latest Gallup poll on the topic.
At this point, almost 7500 concealed carry applications have been filed with the state by women. That's a little less than 12% of the total but it's a number that's expected to grow.
WGN's Courtney Hall talks with firearm experts, business owners and women about how their attitudes are changing when it comes to owning a gun.