This is an archived article and the information in the article may be outdated. Please look at the time stamp on the story to see when it was last updated.
After 30-plus years of feeding Chicagoans , "Breakfast Queen" Ina Pinkney is closing her restaurant, a place that for many has become a Chicago institution.  It's not the first time she's closed a restaurant in Chicago.  But, as WGN's Dean Richards reports, it will likely be the last.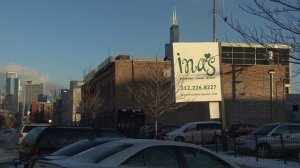 "Hello everybody, don't get up. How are you?"  In her homey restaurant in the West loop, every table filled, Ina Pinkney makes you feel like the guest of honor. "Ladies, you come to have a meal with me today?"  Always ready with a joke, "Somebody said what are you gonna do?  And he says I'm going to sit on my rocking chair on my porch.  And after 6 months I'm gonna start to rock."  (big laughs) And, words of wisdom. "It takes less energy to be courageous than it does to be afraid.  It takes a second to do what you're afraid of, but it takes years of worry that you're going to be afraid." What could be more fearless than opening your own restaurant? "I'm not scared of anything."
Ina showed signs of that as a spirited child growing up in Brooklyn when she contracted polio.  She calls her late father, "Stevie" her biggest fan. "He was the one who said "I have confidence in you." She was brave to marry Bill Pinkney, an African American, at a time when interracial marriage was illegal in 19 states. "He said, "If you show up to the hotel and check in as my wife, you could be arrested." That was the first shock that I wasn't living in an America that I understood." The couple moved to Chicago in 1974.  And in the 80's, when she could find no good breakfast places, her husband encouraged her to open Ina's kitchen at Webster and Bissell in Lincoln Park.
"My food really had to really resonate with you.  It had to be delicious.  I didn't find a lot of delicious around, so I made delicious." She says the entrepreneurial spirit she inherited from her father, always took her down the path of most resistance. "I never see the toughness. I only follow my heart and I have always done that. When she lost her lease on Webster, she sat out of the restaurant business for a few years. But in 2001, she reopened on Randolph Street.  It was perfect.  It had parking!  Her basic restaurant rule?… if she's taken the time and trouble to prepare a meal for you, you must return the courtesy by enjoying it uninterrupted, no cellphones, no music, no distractions. "Thank you."  She's seeing a lot of first timers and long timers in her final days at Ina's.
"I've known Ina for over 30 years since she was making chocolate blobbs and selling them through her little place on Wrightwood Avenue around the corner from where I live," says Bob Berliner.
Like so many others, Bob became a loyal customer, but also a husband thanks to Ina. "I hadn't popped the question and she says to me, you ask that girl to marry you or I'm going to stop feeding you.  And we've now been married for 15 years and extremely happily so."  Dean asks Bob's wife Kathy Amache,  "Is that true?"  Kathy says, "That's what she tells me."
Ina's had an amazing run, cooked for Julia Child, and danced with Fred Astaire.  But when we ring in 2014, Ina's many fans will have to find a new favorite breakfast spot.  "I've enjoyed everything that I've ever had," says Barbara Beaton who has never ordered the same thing twice.  And Karen Brozynski loves the table décor. "We love the little salt shakers on the table." With no regrets, Ina will close her doors on New year's Eve.
"We all wonder what it's gonna be like at our funeral. I'm getting everybody's eulogy and I don't have to die.  Not bad, right?" Ina says that she could have sold her restaurant many times.  But, she held out of the right buyer.   "Nobody's gonna take over Ina's. They're going to gut it and turn it into a Lou Malnati's pizza,  which is great for the street and the neighborhood."
Mark Malnati and his family are among the "Invitation only" guests to dine at Ina's on her very last day.  "Mark is a really wonderful human being and a great philanthropist. I will feed him, serve him the last meal out of Ina's kitchen.  And next summer when he opens he will feed me the first meal. It doesn't get better than that."
Ina says the first thing she'll do in retirement is have a hot meal at home-uninterrupted.  She's sharing many of her favorite recipes in her new book, "Taste Memories," which you can find by clicking here.   http://www.breakfastqueen.com/
Producer Pam Grimes, and Photojournalists Mike D'Angelo and Steve Scheuer, contributed to this report.