This is an archived article and the information in the article may be outdated. Please look at the time stamp on the story to see when it was last updated.
CHICAGO — It's been just more than a year since Delores Bailey's 15 year-old son, Demario, was murdered under a viaduct in the 6100 block of South King Drive. The Johnson College Prep student was escorting his twin brother, Demacio, to basketball practice when they were robbed at gun point. His killing shocked Chicago and made headlines across the nation. If Demario could be killed around noon time on a Saturday- en route to a school activity- no one was thought to be safe here. His mother, however, is working to ensure other kids are.
"I asked God everyday, Wwhat do you want from me? I did what you asked me to do, and I raised my kids the way that you said to raise them,'" Delores told WGN News from her Chatham home.
She does not and did not have much time to herself to grieve for her son Demario. Delores has a full-time job, a husband, and three other boys to raise. Life goes on in the wake of horror, and the horrors have not stopped in the city that surrounds her.
"We are losing everyday our children," she said. "They say children are the future, but it don't look like our future is being real bright."
In the twelve months following Demario's murder, about 500 others have been killed in Chicago. Some of those victims dominated shocking headlines as her son's death did. This summer, the death of seven year-old Amari Brown pained Delores. This fall, it was the killing of nine year-old Tyshawn Lee.
"Look and see what is going on," she said. "The grounds are opening up, the buildings are falling down. Our kids are losing their lives in an instant."
Ask some experts, and you can find as many explanations for Chicago's gun violence as there are victims. To Delores, however, the reason behind the epidemic is simple.
"If you instill love in them, they will love one another," she explained. "There is no way in the world my boys would have picked up a gun and killed somebody over a coat."
If kids are not receiving love at home, Delores has plenty to offer. That's why she is working to show them that love after school and on the weekends in vans bearing her son's image. The vehicles are intended to keep kids safe to and from activities. The service is one Delores could have used herself on that one day that she couldn't drive her boys to practice.
"I was sick, and I didn't go to work that day," she recalled tearfully. "Only if somebody could have come and picked him up for me and took him to basketball practice. That plays in my mind over and over."
She came up with the idea for the van service on the day her son died. Illinois Secretary of State Jesse White helped her get started; Delores told him of her plans when he presented her with a memorial license plate in honor of Demario. Later, White presented her with a vehicle he no longer needed. Mayor Emanuel donated a van also.
"Every Saturday of my life, I have asked God to make me willing and able to be with the kids in the City of Chicago," she said. "Every Saturday of my life, I dedicated to my son. When I'm with somebody else's child, I'm loving my child."
On the weekends, Delores will plan activities and provide a safe way for kids in and around her neighborhood to participate. It's the best and only way she knows how to prevent other kids from becoming victims like Demario- showing them the love she knows so many do not receive.
"When your mother wants to sit there and smoke dope with you and drink with you, I'm telling you that you are still somebody," she said. "It's not right. It's not appropriate. That's not how life is supposed to be."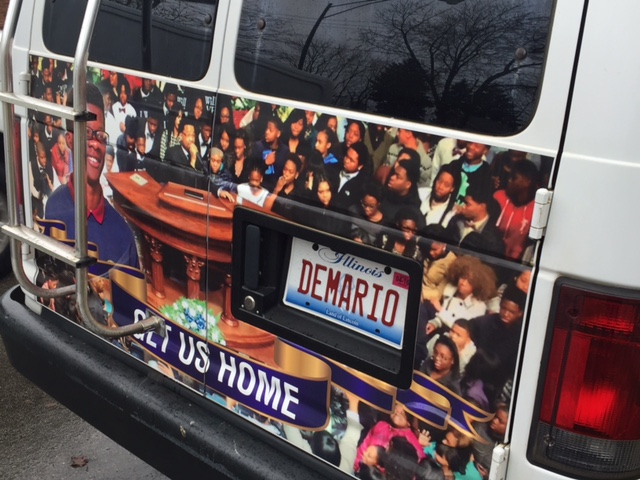 Delores will provide the time, the driving and the love. She could use a few practical items to sustain her service: gas cards, gift cards for lunch, tickets to downtown museums and other events appropriate for kids.
"I tell the world, please do not feel sorry for me," Delores said. "Help me help somebody else."
Though her son may be gone, she is grateful for this opportunity to protect many, many more.
"That is what I'm saying to the enemy- which is the devil to me- you took one of mine, and I am coming after 101 of yours," Delores said. "I'm going to love on somebody else's child as if Demario is here."
If you would like to send gift cards, gas cards or other donations to help Delores Bailey's effort, you can mail them to:
Johnson College Prep
C/O Delores Bailey
6350 S. Stewart Avenue
Chicago, IL 60621