This is an archived article and the information in the article may be outdated. Please look at the time stamp on the story to see when it was last updated.
CHICAGO -- An "Honor Flight Chicago" trip in 2009 was a bit of a rebirth for World War II survivor Norm Lasman of Chicago.
He never knew who saved his life on May 11, 1945,  the day Japanese suicide bombers attacked the American aircraft carrier U.S.S. Bunker Hill.  The smoke and flames left him unconscious and suffering from carbon monoxide poisoning for 19 hours.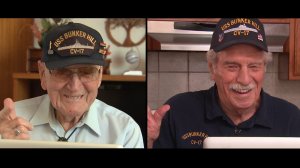 But after reading a book called, "Danger's Hour," written by Bobby Kennedy's youngest son Maxwell, it began to spark memories for Norm, and sent him on a mission to find the man who came to his rescue.
In a follow-up to a 2009, WGN-TV News Emmy and Murrow Award-winning documentary featuring Norm's story, you will see his path to a mystery solved. Watch as WGN-TV camera crews captures the moment a 97-year-old Seattle native, and now 94-year-old Norm Lasman lay eyes on each other for the very first time, 2,100 miles and 72 years apart.
WGN's Steve Sanders picks up the story of a late life friendship forged in the flames of battle.
Photojournalists Mike D'Angelo and Brad Piper, as well as Producers Pam Grimes and Kelly Barnicle contributed to this report.
You can find the full story in Maxwell Kennedy's book "Danger's Hour." We've provided a link here.
And if you'd like more information about "Honor Flight Chicago" please click these links.
https://www.honorflightchicago.org/
https://www.facebook.com/Honor-Flight-Chicago-132980098618/