This is an archived article and the information in the article may be outdated. Please look at the time stamp on the story to see when it was last updated.
Nine years ago, a Wisconsin woman was fighting for her life, stuffed inside a garbage can, and dumped in an unheated storage locker in Chicago's northwest suburban Wheeling
Teri Jendusa Nicolai was bleeding, freezing, and left to die.  But almost a decade later, her story of survival continues to inspire.
The attack and kidnapping happened on a Saturday morning, the third anniversary of Teri Jendusa Nicolai's divorce from David Larsen.  She had gone to pick up their two little girls and walked into a set-up.  We warn you, this story contains violent and graphic content.  But it is Teri's story, in her words.
"On January 31st, 2001 the date of our divorce, when we walked out of the courtroom he was crying.  And I remember looking at him thinking why is he crying?  He hates me.  He's so horrible to me.  And I remember looking at him and he said, 'You're gonna regret this,'" Teri said.
She describes David Larsen, the ex-Marine she married, as a long time friend, fun loving, and family oriented.  But he was also controlling.  The first time he hit her was on their honeymoon.  "…a few times… and said you do what I say we're married now.  And I will never forget his famous quote was, "You are bought and paid for."
Teri and David were married three years, had two little girls, and one night when he came home in a rage, her toddler let her know it was time to go.
"My oldest daughter Amanda who was 2 at the time crawling underneath the table and just putting her hands over her ears and crying and just saying shut up.  And I remember I looked at her and I thought this is not what I want for my kids," Teri said.
She took her girls and moved to safety in a women's shelter.  She filed for divorce, shared custody of the girls, and re-married.  Five years went by.  Teri moved on.  David Larsen did not.
"He opened up the door and said 'Well the girls are hiding they want you to come in and find 'em.' My gut told me something was weird.  And when I walked in I was hit on the head with a baseball bat.  And he was saying things like, 'You always said I was abusing you. Now you can see what abuse really is.'
That first blow to her head was just the beginning of a 26 hour long nightmare.
"Who has a Rubbermaid garbage can empty?  Duct tape?  Baseball bat?  Rags all sitting in your living room.  It's the day our divorce was final," Teri said.
Though drifting in and out of consciousness, she remembers him swinging that wooden bat 15 to 20 times.  He duct taped her hands, feet, and mouth, and let the torture begin.
"I remember thinking to myself I can't believe I'm thinking, but he's sliding me in this garbage can head first.  I'm never gonna make it.  So I wiggled around so I went in feet first and that probably saved my life right there," Teri said.
Larsen took her pants, shoes and socks, rolled the plastic container into the yard, and started filling it with snow.  As he loaded her into the truck bed and went to get the girls inside, Teri told herself, "I'm going to die today."  But Larsen made a critical mistake.  Teri still had her cell phone.
"The dispatcher said 'Are you having trouble breathing?' And I just kept saying his address," Teri said.
LISTEN TO THE FULL 911 CALL HERE
"They had sent someone.  But by the time I heard the squad sirens we were starting to move.  And the squads were going to his house and we were moving down the road," Teri said.
Police found signs of a struggle and neighbors saw the flashing lights and called Teri's house. They told her new husband Nick Nicolai they'd seen Larsen towing away Teri's Camry.  Nick knew right away she was in trouble.  The phone rang again. This time it was Teri.
"It was a very difficult phone call.  The thought crossed my mind whether that would be the last time I'd talk to her alive," Nick said.
Nick and Teri had learned the night before that she was pregnant.  Now, she was in the back of a moving pick-up truck, at the mercy of her ex-husband, worried about the girls.  They were in the truck's cab with their mother in the back as he drove them to a babysitter.
LISTEN TO TERI'S SECOND 911 CALL FROM THE BACK OF THE TRUCK HERE
He then drove to a Public Storage Locker on Milwaukee Avenue in Wheeling, wheeled her into his space, and covered the can with heavy boxes. At that point she says Houdini couldn't have broken free. The boxes held her wedding gown and photos.
"I'm 5'8." So I'm in this garbage can and my knees are totally squished up to the side and I'm barefoot. And I remember my feet being so freezing I was just trying to get my hands to cup my feet and I couldn't get my hands down there, I couldn't reach so I had to just sit there.  There was nothing I could do," Teri said.
An Amber Alert was issued for the girls in Wisconsin and Illinois. Racine County detectives arrested Larsen at work and in his wallet discovered a business card for a storage locker, not in his home state of Wisconsin, but Illinois. One call from detectives told them Larsen had been there the day before.
"There was muffled sounds of a woman's voice coming out of a storage unit," said a police officer in police file footage from Super Bowl Sunday, 2004.
"'What's your name?' And I said, 'I'm Teri from Racine.' And I could hear his sigh like, 'Oh my God, we found her.'"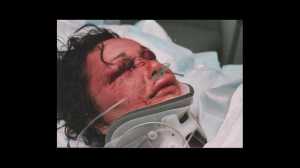 Her skull was crushed, her eyes swollen shut. She was suffering from severe frostbite and her body temperature had dropped to a life-threatening 74 degrees.  Doctors said she had an hour left to live. Eleven days later, on their four month wedding anniversary, Nick and Teri talked to reporters.
"Dying was not an option because my girls need me.  I don't remember much about the rescue.  But I felt great relief when I heard the paramedics," Teri said in that interview.
"One day we look forward to expanding our family. Teri has a wonderful spirit and she will recover," Nick said.
Teri had lost all her toes, unable to walk, but was all smiles.
"I had that smile because thank god, thank god I'm here for my kids.  Thank god my kids are OK," Teri said.
And now there are three kids.  The girls are in high school, and Nick and Teri have a 5-year-old son.
"Since this happened so early in our marriage, we really have never had a normal marriage of what most people have, but we've grown together and finding a new normal in our lives," Nick said.
She believes she's saved lives by talking to college students and women's groups, and helped others lead happier lives.
"I go to Kohl's or something and people recognize who I am and some people will hug me and some people will cry, 'Oh my gosh, that was  so horrible.' And I say to them, 'Don't cry now.  Things are great now.'"
David Larsen is serving a life prison sentence and owes Teri more than $3 million she won in a civil suit against him. She knows she'll never see a dime of it, but she loves the message:  You can't do this to someone and not pay.
She says Larsen has never shown any remorse and you can't forgive someone who won't ask for forgiveness.  She's certain if given the chance, Larsen would try to finish the job and kill her.
Teri devotes a lot of her time to speaking on college campuses and to women's groups about domestic abuse.  We've compiled a list of resources that may help people in abusive relationships which you can find on our website at wgntv.com/coverstory
We can also send you the video link that includes powerful web extras, if you text the word COVER to 97999.
Producer Pam Grimes and Photojournalist Mike D'Angelo also worked on this report.
For more information:
National Domestic Violence Hotline
City of Chicago: Domestic Violence Help Line
Help Abused Women – SafeHorizon.org
State of Illinois Helpline – Chicago Metropolitan Battered Women's Network