This is an archived article and the information in the article may be outdated. Please look at the time stamp on the story to see when it was last updated.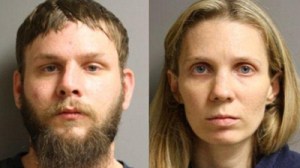 A couple in Texas is accused of starving their 5-year-old old son and locking him in a closet.
According to KTRK, they say his own father and stepmother locked him in a closet beneath the staircase.
When police found the boy, they say he was emaciated and malnourished and he looked like he'd been beaten.
Bradley Bleimeyer, 24, and Tammi Bleimeyer, 33, have been arrested and charged with endangering a child.
Tammi Bleimeyer, who was released on $2,000 blond, is publicly denying that she abused or neglected her 5-year-old stepson. She denies any responsibility for the boy's condition.
"I don't know what caused him to look like that. I don't know if it's health issues or if it is truly something else, but I don't want to be like everybody else and assume the worst," she said.
On Tuesday, Tammi filed for divorce from her husband, but she says she's not convinced he is to blame, either.
Bradley is currently being held without bond.