This is an archived article and the information in the article may be outdated. Please look at the time stamp on the story to see when it was last updated.
Chicago Police are investigating two separate incidents of sexual assault that occurred Wednesday morning.
The first incident occurred on the 10300 block of South Emerald. Two adult women were sexually assaulted inside their residence.
According to news affairs, both women were taken to Little Company of Mary
Hospital in Evergreen Park.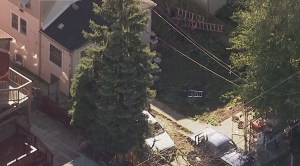 The second sexual assault incident occurred on the 10000 block of South Peoria. A 14-year-old girl was walking to a bus stop when she was dragged to a nearby yard and assaulted.  She was also taken to Little Company of Mary Hospital.
The same man is suspected in both incidents.
He's also suspected of breaking into a home in the 10100 block of South
Green Street.  No injuries were reported in that home invasion.
The suspect is described as a black male with a dark complexion, approximately 6 feet tall and 150 pounds, and shoulder-length dreadlocks. He was wearing a dark grey or black t-shirt, blue jeans and black gym shoes.
If you have any information, please call police at the Area South Detective Division: (312) 747-8271.