This is an archived article and the information in the article may be outdated. Please look at the time stamp on the story to see when it was last updated.
HUNTLEY, Ill. — Community members will gather Sunday to help raise money for a memorial in honor of AJ Freund.
AJ was found dead Wednesday in a shallow grave in Woodstock. He'd been reported missing nearly a week earlier.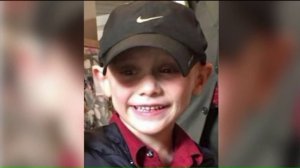 His parents, Andrew Freund Sr., 60, and JoAnn Cunningham, 36, have been charged with first-degree murder. Prosecutors said the couple forced the boy to stand in a cold shower for an "extended period" of time, then beat him to death. Bond was set at $5 million each.
The fundraiser, "Bowl in Blue Benefit,  will be held at Huntley Bowl-Hi Lanes and starts at 7 p.m.
Organizers said money raise will help with a memorial in AJ's honor, pay for funeral expense, and help AJ's brother.
Participants are encouraged to wear blue and donate $20.  More information on the event's Facebook page and the GoFundMe page.
A public visitation will be held for AJ  Friday at the Davenport Family Funeral home in Crystal Lake.
Freund Sr. and Cunningham are scheduled to appear in court Monday.