This is an archived article and the information in the article may be outdated. Please look at the time stamp on the story to see when it was last updated.
Residents in the Woodlawn neighborhood gathered Tuesday night to remember the baby who died early Tuesday after being shot Monday.
The grieving community turned their anger and sadness into a call for action. They are determined to catch the killer.
6-month-old Jonylah Watkins was shot multiple times Monday afternoon as her father changed her diaper inside a van. Police say the gunman blindsided his intended target, 25-year-old Jonathan Watkins, and killed the baby instead.
The spot where the baby died is covered with messages of love and loss.  Residents stood united tonight and passed out fliers spreading the news about a killer on the loose.  Some mothers shared their feelings, having lost their kids to gang violence, too.  Anjinette Labert lost her son Darian in 2009. He was beaten to death. Diana Aguilar's 6-year-old daughter Aliyah died in her arms almost one year to the day. Esther Stroud's son was stabbed to death in 2008. Their sadness is palpable.
The neighborhood wants answers and wants the gunman to give himself up.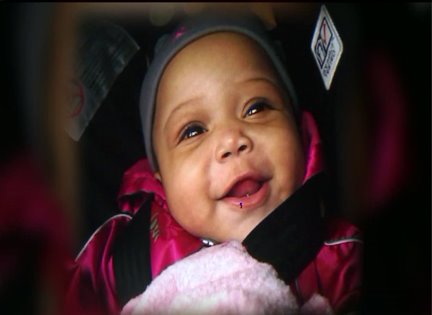 Police are asking for the public's help to find the gunman.  There is an $11,000 reward for the person who breaks the code of silence and turns him in.
Earlier in the day, city leaders like Police Superintendent Garry McCarthy and Mayor Rahm Emanuel spoke out in anger and frustration over the shooting.  Emanuel called the shooting "senseless and despicable."
The baby's father Jonathan Watkins is in serious condition at Northwestern Memorial Hospital.