This is an archived article and the information in the article may be outdated. Please look at the time stamp on the story to see when it was last updated.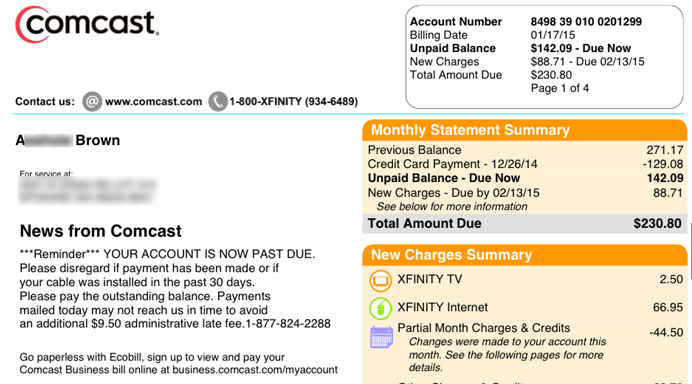 SPOKANE, Wash. — It doesn't take much to make a cable bill infuriating. One Comcast customer was shocked to find an unusual sight on his bill after he cancelled his service.
It wasn't the amount of the bill — it was the name that got the most attention.
Ricardo and Lisa Brown decided they could live without the $60-per-month cost and tried to downgrade to Internet only, but were referred instead to a customer service agent who tried to convince them otherwise.  The "retention specialist" even tried to persuade them to sign a new two-year contract, they later told consumer advocate Christopher Elliot.
Then, their next bill came.
Instead of being addressed to Ricardo Brown, as normal, "A**hole Brown" appeared at the top of the statement. Comcast confirmed to the Huffington Post the bill is real.
Following the incident, Comcast released the following statement: "We have apologized to our customer for this unacceptable situation and addressed it directly with the employee who will no longer be working on behalf of Comcast.  We're also looking at a number of technical solutions that would prevent it from happening moving forward."
The company added, "We are working with our customer to make this right and will take appropriate steps to prevent this from happening again."
Brown said the cable company initially promised to refund two years of cable costs, and to provide the next two years for free.
Brown, however, says she was only given the two-year refund in the end.