This is an archived article and the information in the article may be outdated. Please look at the time stamp on the story to see when it was last updated.
A high school senior could be banned from her graduation ceremony over a quote she submitted to the yearbook.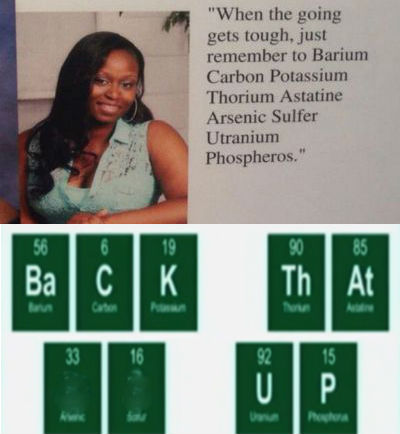 According to WSB-TV, Paris Gray, a student at Mundy's Mill High School in Clayton County, Ga., wrote the seemingly scientific advice, "When the going gets tough, just remember to Barium Carbon Potassium Thorium Astatine Arsenic Sulfur Uranium Phosphorus."
By matching the elements to their symbols on the periodic table, they spell a new, less academic, message: "Back that a– up."
Despite the fact that no yearbook editors or adults marked the quote as inappropriate before the book's publication, administrators punished her when they learned of the code Friday. They gave her an in-school suspension and forbade her to participate in a senior walk after the yearbooks were distributed.
"I think their reaction was beyond what it should have been because nobody understood it," Gray said.
Gray, who is a senior class vice president and a member of SADD and the Beta Club, expressed her worry that the fallout from this incident will ruin her senior year, saying it is "taking a big toll."
An assistant principal told her she would no longer be allowed to give her planned inspirational speech at the graduation ceremony, but a school district spokesperson said that no decision has been made yet.
The area superintendent and the principal were scheduled to meet with Gray's mother Tuesday morning.