This is an archived article and the information in the article may be outdated. Please look at the time stamp on the story to see when it was last updated.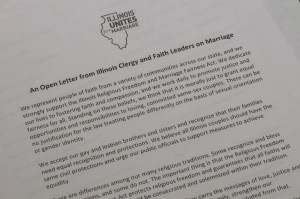 More than 250 religious leaders are coming out in support of a gay marriage bill that could come up for vote in Springfield in a few weeks.
"There can be no justification for the law treating people differently on the basis of sexual orientation or gender identity," the faith leaders said in an open letter. "It's not only a matter of equality – it's a matter of conscience and justice."
State Rep. Greg Harris (D-Chicago) sponsored house bill 5170, The Religious Freedom and Marriage Fairness Act. He is pushing for a vote on the measure before new lawmakers are sworn in on January 9th.
"I'm so glad there are hundreds of pastors and rabbis who've said they want to consecrate same-sex marriage. On the other hand, I know many churches that will not. We respect both points of view," said Harris.
There is intense opposition to the bill.
"'If you put that in context to the great number of churches in Illinois, it really is a small number of those who are siding against God's definition of marriage," said David E. Smith, Executive Director of the Illinois Family Institute.
Nine states and the District of Columbia have legalized gay marriage. A law allowing same-sex couples to enter into civil unions in Illinois went into effect, last year.