This is an archived article and the information in the article may be outdated. Please look at the time stamp on the story to see when it was last updated.
The parents of slain Chicago teenage Hadiya Pendleton announced the launch of a new gun violence effort today in their daughter's name.
Hadiya would have been celebrating her 17th birthday this month if she was still alive.
Now, her parents have turned their grief into something positive as they announced the formation of "Hadiya's Promise," a new national organization to improve the lives of families and help youth find sensible alternative solutions for gun violence.
"They didn't take my angel, they set her free," said Hadiya's father, Nathanial Pendleton.
"They set her free to move and inspire all over this country because she's touched so many people."
Hadiya's father said he hopes his daughter will serve as an inspiration to others battling to improve the lives of inner city children.
It's been nearly a year and half since Hadiya got caught in gang cross fire and captured the attention of the city, President Barack Obama and First Lady Michelle Obama and the nation.
"What the Pendleton's want to do today is turn what was a tragedy into a day of action," said executive director of "Hadiya's Promise," Angela Rudolph.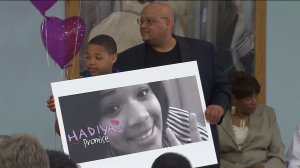 "They want to turn it into a way to mobilize, to affect change and to also inspire people."
Mayor Rahm Emanuel and other city officials joined the Pendleton's this morning as they unveiled the organization for the first time.
"As a father of 3, I don't think I would have this passion, I would be so angry, turned inside with rage," said Mayor Rahm Emanuel.
"I'm in awe of these parents who take this personal moment, this loss, and try to turn it to make sure that no parent ever has to walk that path."
WGN News Writer, Judith Ruiz-Branch