This is an archived article and the information in the article may be outdated. Please look at the time stamp on the story to see when it was last updated.
She was born the year the Chicago Cubs won the World Series and Henry Ford introduced the Model T.  Not many people on the planet can make that claim, which is why Emilia "Nona" Rossi is definitely one of "Chicago's Very Own."
Though she's never stood more than five feet two, Nona Rossi always commands attention at family gatherings. "Every day, every year, another birthday comes around, it's just amazing she's still here," says grandson Joe.  "She knows everybody and that's the amazing thing about this too, not just us, but our kids. She'll know when their birthdays are. She's very aware." Not bad for a young woman who stepped off the boat in 1929. Emilia Murer was born in the mountains of Northern Italy on September 16, 1908. She met Joseph Rossi in their hometown of Falcade in the spring of 1929 and married him three months later.  He had been to America and wanted his bride to see the land of opportunity.  Nona's only daughter, Loretta O'Connell, says little did they know their timing would allow them to witness one of the most catastrophic events in American history.
"They got on the boat in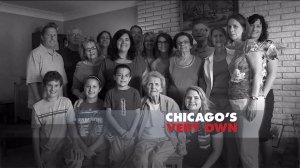 Genoa October 29th, 1929. Unbeknownst to them, several hours later, the United States will have a crash." "I came to Chicago with train from New York", says Nona.  "My husband used to work in the steel mill in south Chicago."  Daughter Loretta says they had every intention of returning to Italy.  "And then my brother came along in 1931. Then another brother came along in 1932. And he said forget it, we're staying here." Though they traveled to their hometown over the years, their dreams of returning and living in Italy began to fade.  Nona says she didn't mind. "It was ok.  I never say anything bad about it because we didn't have much in Italy anyway."   But they had each other.  The Rossis worked hard, made lots of friends, and became part of a vibrant South Side.  Joe Rossi and his boys built this house in the flight path of Midway Airport.  Micah asks Nona, "What was your favorite time in your life?" Nona responds, "When they (her family) were all home."  When husband Joe died in 1986 Nona stayed in the house until she turned 100.  She now lives with her only daughter and son-in-law.  She gets a little melancholy knowing at 105, she may soon have to say good-bye. "I like my family.  I like when they come. I like them, my daughter take care of me and my son-in-law so I'm happy here."
Nona misses her friends, traveling, and cooking.  And truth be told, she's a little bored. We asked her daughter, so what does a 105 year old woman do every day? "She gets up in the morning.  She says her rosary.  If the sun is shining like it is today, she'll go to the living room where there's a chair sitting in the front window there. And that's where she'll do her crocheting." Nona works so fast she's made stacks of blankets, scarves, and knit hats which she donates every year to Misrecordia.  Grandson Joe is grateful for every precious day with her.  "It's one thing to talk about your grandmother to your children when they're not around, now they're living it.  How lucky are we to have that?"  Micah asks Nona's children, "What's your birthday wish for her?"  Joe answers, "Another year."  Loretta had this to say. "I just wish that when the time comes, she's not in pain.  I would love to see her knitting and that's it." Nona Rossi, she's one of the original, "Chicago's Very Own."  "I have a good life.  All in all it was good."
Nona doesn't claim to have any "secrets" to longevity. But, her kids say her mantra has always been, "Keep busy and mind your own business." And a little red wine and olive oil work too! Her 105th birthday is Monday, but her party is tomorrow where she'll be surrounded by her loving family.  Happy Birthday Nona and many more from all of us here at WGN.
You can find others who have been featured on "Chicago's Very Own" by clicking this link.
http://wgntv.com/chicagos-very-own/
Producer Pam Grimes, and Photojournalist Steve Scheuer contributed to this story.