This is an archived article and the information in the article may be outdated. Please look at the time stamp on the story to see when it was last updated.
Cordell Smith and Jasmine Allen are survivors.
"My mother was never around, my father, he was a cop out in Joliet, but he never assumed responsibility so I always like rejection," Allen said.
Like a lot of youth in Chicago's black urban communities, violence became a part of cordell's life.
"As a youth, I had a lot issues dealing with the violence on the streets as well as drug dealing," Smith said.
By 17 years old, he'd been in and out of jail numerous times for drug dealing. Eventually, he came before a judge who saved his life.
"A judge ordered me to come to a place that can lead me into becoming a positive role model as well as a man and being a leader," Smith said.
That place was UCAN, formerly known as Uhlich Children's Home. Established in the 1860s as a place for Civil War soldiers to leave their children for safe keeping until they returned, it now serves over 1,300 kids and families, who themselves need safe keeping.
"The most significant thing about us is we really understand children," said UCAN CEO Tom Vandenberk. "We understand what got them to where they are why they're in need and we focus on breaking the cycle."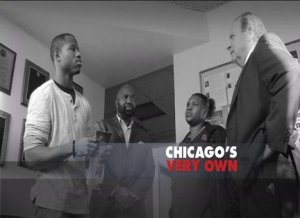 UCAN has 40 different programs. The core focus is on healing the kids from the effects of he trauma and violence they've experienced, and empowering them to make a change.
"Our vision is youth that have suffered trauma can become our future leaders, and we really believe that," said Norman Livingston Kerr with UCAN.
It worked for Smith, who, at 25 years old, is now a double major in economics and sociology at Northern Lewis University.
"My mind actually changed. I wanted to be here more because it gave me a chance to grow as a person, and to turn from a boy into becoming a man, showing that there are more things to life than violence," Smith said.
"They're walking down the street and they're getting assaulted, they're getting abused and they have to go somewhere, something has to give," Kerr said.
At UCAN, Kerr says the kids get suppport and assistance from adults who care about their well being and who want to see them succeed.
Jasmine Allen, once a teen, lost in the system with a baby and nowhere to go, says UCAN saved her life.
"Just when I think no one's there or no one cares, here comes UCAN. Coming to my rescue and it's bringing tears to my eyes, it's the truth though," Allen said.
She is now apart of the staff, working with other teen moms in UCAN's "Real Talk" program.
"We don't look at kids as, 'Awww, these poor kids, these things are happening to them, we should feel bad for them.' We look at 'em as young people who have a future," Vandenberk said.
"You got some goals, you can do it. You can do it there's nothing stopping you," Allen said.
UCAN: It's one of Chicago's Very Own
For more information about how you can help UCAN, got to http://www.ucanchicago.org/