This is an archived article and the information in the article may be outdated. Please look at the time stamp on the story to see when it was last updated.
It's dismissal at Grande Park Elementary in Plainfield.
"There's a lot of excitement about tonight.  Right when the bell rings they're going to go straight over to the gymnasium and get started with making those blankets."
Blankets that two time breast cancer survivor, Kimberly Jewett will carefully and thoughtfully teach them to make.
Beth Wulff is the principal at Grande Park Elementary School and says "I think what inspires all of us so much about Mrs.  Jewett is that she is trying to make a difference at a really really difficult time in her life, and it's so selfless."
When Kimberly was diagnosed with cancer for the second time she knew she had to do something to help her children, 10-year-old Kalli and 8-year-old Tyler, cope with her illness.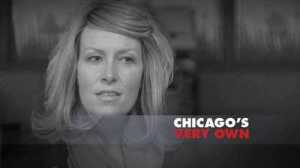 "Whole concept sort of came down to me wanting them to be distracted and it really stemmed from my son, who's 8 that wanted this project to move forward and it really flourished," Kimberly said.
Her son, Tyler said "I feel kind of happy because they need the blankets to make them feel warm and help them get through all they need to get through."
The very first blanket they made together, Kimberly wrapped around a young woman, so sick with the disease, she could barely raise her head thank her.  "Immediately as tears rolled down my face, I knew that I comforted her," she said.
A week later I received a letter in the mail that said "thank you so much for this blanket.  Cathy is laying here, so content under your blanket.  And it even matches her fingernails too. Thank you Kalli and Tyler for your thoughtfulness."
Kimberly said "At that moment I knew that not only did we do something so amazing, but the feeling in return was priceless."
So Kimberly and her kids started making and giving away more blankets.
They now designate every Thursday as "Thoughtful Thursdays;" the time for them to do something thoughtful and compassionate for others.
"I never would have imagined it to get this big but now I realize that Thoughtful Thursdays is going to have to continue, because there's so many other ways of helping others."
They've launched the project through the school and this "Thoughtful Thursday", Kimberly and her kids are teaching Kalli and Tyler's classmates how to make the fleece blankets for newly diagnosed cancer patients and their families.
"I feel good and I feel that I'm helping other people," Kalli said.
Kimberly Jewett and her kids, Kalli and Tyler, they're each one, Chicago's Very Own.