This is an archived article and the information in the article may be outdated. Please look at the time stamp on the story to see when it was last updated.
Kids at Stockton Elementary in Chicago's Uptown neighborhood are definitely listening when Bob Schwalb is at the front the class.
"When he tells you about it, I feel like i can do anything," said 8th grade student Brittany Smith.
Scwalb is teaching these8th graders how to be humane. And how he does that is through a curriculum he put together for HEART — an acronym for Humane Education Advocates Reaching Teachers.
"Engaging someone's heart is like empathy and compassion which is like the cornerstones of our programs,' Schwalb said. He's the program director for HEART in Chicago.
HEART, a national program,  sends instructors, like Schwalb into inner city schools and non-profits,  across the country. He's been here at Stockton for four years.
Working closely with kids to help them focus on human rights, animal rights, and how to respect the environment. In other words, it teaches them to be kind.
"The Dali Lama said when we teach the children's brains that we do not neglect to educate their hearts," he said.
And through HEART, Schwalb has seen kids overcome their circumstances. For some it's homelessness, others it's poverty. But through humane education, students are embracing their differences.
Eighth-graders Brittany Smith and Isaiah Rials have been heart students since 6th grade. They are now project leaders.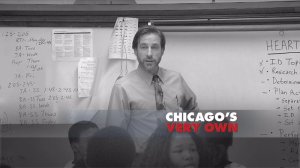 "The name just reflects on you. To have a heart is a big thing and to show that you care about something," Rials said.
He has seen distinct changes among his fellow students. Especially when it comes to the way they treat each other.
"After what we've learned, I see how it reflects on them. It shows a big difference on how they were before and after," Rials said.
Schwalb addressses taboo issues head on. Things like homophobia,  bullying and sweat shops become common themes for projects.
"Some of the kids admitted to being homophobic. At the end of the project, they realized these individuals were still people and they deserved respect and compassion so they saw them differently," Schwalb said.
"No one bats an eye if we talk about things like gay marriage. The kids are so more accepting of things and definitely more compassionate," said Stockton Elementary School teacher Anita Zajac.
HEART is offered to public schools at no extra cost. It's been in Chicago 4 years and worked with 44 different schools and learning centers in half the zip codes in the city.
And he's having success everywhere he goes.
"You just need the confidence built in them when they do these things. They feel good about themselves. They feel good about what they've accomplished and they know that they can be change-makers," he said.
HEART also inspires Schwalb. When he heard someone speak about the program, quit a high-paying job in the business world to get re-educated on humanity. He decided that teaching kids how to be kind to one another was a better reward than the fat paycheck he was getting.
"When I wake up everyday I know that I am going to be impacting the youth and I am going to be opening up their hearts and getting them to see the world through the lens of their values an that's a feeling that i don't want to ever give up," Schwalb said.
Bob Schwalb and HEART: They're one of Chicago's Very Own.
For more information on HEART go to: teachhumane.org