This is an archived article and the information in the article may be outdated. Please look at the time stamp on the story to see when it was last updated.
CHICAGO -- It's going to be a festive day on the North Side Sunday for Chicago's annual Pride Parade, the culmination of National Pride Month.
More than one million people attended last year, because it was the first Pride Parade after same-sex marriage became legal in Illinois.
Even more people are expected this year, to celebrate Friday's Supreme Court ruling in favor of marriage equality.
Parade organizers are urging people to behave, because the city has said this could be the last year the parade is held in Lakeview if the crowds can't be controlled. Some city officials want the parade to be moved downtown next year.
In addition to the hundreds of Chicago police officers who will be patrolling the Lakeview neighborhood, parade organizers have hired 90 off-duty police officers for extra security.
Some neighborhood bars that usually close at 4 a.m. have decided to close at 2 a.m. to help prevent alcohol-related problems. Anyone caught drinking outdoors could get a $1,000 fine.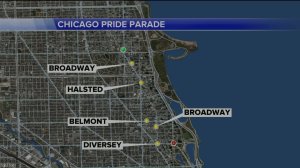 Street closures along the four-mile parade route begin at 8 a.m. Sunday, and are expected to be back open by 8p.m.
The parade kicks off at noon Sunday at Montrose Avenue and Broadway, then heads South to Halsted Street to Belmont Avenue. From there, it goes back down Broadway to Diversey Parkway.
The Stanley Cup will be in the parade, along with members of the Chicago Blackhawks. Look for them on the WGN Radio float. This will be the second time the trophy has made an appearance in the Pride Parade. The Stanley Cup was also there after the Blackhawks won it for the first time in 2010.
Be sure to also look for the WGN-TV float. Bozo the Clown will be on it, along with Sean Lewis, Tom Skilling, Dean Richards and Muriel Clair. Also Demetrius Ivory, Erin McElroy, Paul Lisnek and Courtney Gousman.